Google Search

Search (Google!!)
Search Amazon.com
Home
E12
E24
E28
E30
E34
E36
Z3
E39
E46
X5/E53
ALL
Ron Stygar
Carl Buckland
Dale Beuning
Forums
Help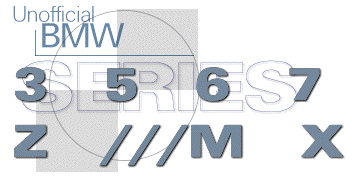 ---
---
Special thanks to Michel Potheau for some of the information on this page.
Another great source of E12 info is the First Fives - E12 Registry, thanks to Gregory Szczyrbak.
Big Coupe Group also has a lot of good info, early('76-'82) 6 series has many similar parts to the E12 5 series, brakes, suspension, electrical.
---
See all UnofficialBMW Ads
---
Dedicated to the BMW 5-series years 72-81.

BMW E12 Email archive
BMW E12 Image archive
BMW general Email archive

Not finding it here? Use Google to search this site!
Email me.
---
Types of E12's(USA spec):
---
Some tips and info from other E12 owners :
6cyl [M30 2.8l] 6cyl [M30 3.0l] ALL

Changed your hoses lately? Here is how to check if it needs changing.
Cylinder head, original design cracks eventually, look for casting date which is newer than the car. Late '80 and up are the better ones.
Cam lubrication is a problem, cam wears on #3 exhaust. This is due to a lube tube which cracks or gets loose and spray doesn't hit that lobe.
Fan clutches fail predictably every 60,000 miles or so.
Valve adjustment FAQ
Fuel Transfer pump FAQ
O2 sensor, everything you ever wanted to know.
O2 sensor, buy a good one
Check the differential mount. The original factory mount was not strong enough and this usually breaks. It needs to be reinforced for it to last.
Motor mounts wear and tilt engine back. Eventually the brackets holding them will fatigue. Glance at the mounts, they will normally show a little compression at the back. If they show a lot, they are shot. If you have trouble installing a new oilfilter, it's a sure sign the mounts are shot.
Speedo box (in line on cable) for oxy sensor mileage needs lube from time to time.
Short Shift installation instructions
Clutch bleeding, another person's experience
Clutch hydraulics repair
Adjusting clutch
Problems with a stiff clutch
Installed TSW Imola's in 16"x7" from Discount Tire Co. With Dunlop D40 M2 205/55/16 tires. Offset for rim is 15mm. The rims are also hub-centric for BMW's so no adapter is needed.
Installing new struts
Front end shimmy FAQ
How to keep an older E12 (or other BMW) feeling new:
Replaced all fuel lines under hood
Replaced alternator bushings
Replaced all vacum lines under the hood
All coolant hoses replaced...even the little bugger behind the alternator
New motor mounts installed
New transmission mounts installed
Replaced rear shock-absorber bushings
Replaced front control arm bushings
Replaced all shifter linkage components
Replaced the guibo (rubber flex disk in driveline)
Unofficial Homepages: [Home] [E12] [E24] [E28] [E30] [E34] [E36] [Z3] [E39] [E46] [X5/E53] [ALL] [ Help ]