Home
E12
E24
E28
E30
E34
E36
Z3
E39
E46
X5/E53
ALL
Ron Stygar
Carl Buckland
Dale Beuning
Forums
Help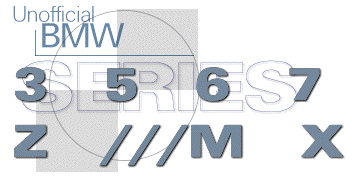 ---
Supporting UnofficialBMW.com
If you have an iPhone Download Free Healthy Habits iPhone app!
Unofficialbmw.com expenses are paid for by the sales of repair manuals and other items through Amazon.com. If you'd like to help support Unofficialbmw.com continue to be the best place on the net to get repair and maintenence information for your BMW, please do one of the following:
Buy your Bentley repair manual through Unofficialbmw.com.
Buy other items, like tools or garage items that are featured on the site.
When you click through, immediately click 'add to basket'. Please do this even if you decide against the purchase later, you may always remove it later. Why? Amazon gives us a higher commision if you add the item from the direct referral page instead of later after clicking around the site looking at other items.
PelicanParts.com also supports our site. Please consider shopping there when you are looking for parts or goodies for your BMW, and remember to mention your use of Unofficialbmw.com.
Or send a $5 or $10 contribution via PayPal today:(click on image)

Or contribute $5 or $10 via Amazon:(click on banner)


Thanks for helping make this site possible!
Dale