Home
E12
E24
E28
E30
E34
E36
Z3
E39
E46
X5/E53
ALL
Ron Stygar
Carl Buckland
Dale Beuning
Forums
Help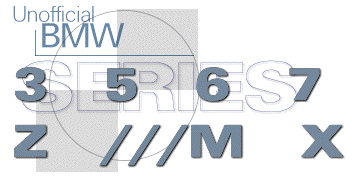 ---
---
From RonStygar_at_aol.com Thu Oct 2 20:58:15 1997

---
From RonStygar_at_aol.com
Date: Thu, 2 Oct 1997 23:57:45 -0400 (EDT)
To: dale_at_unofficialbmw.com Subject: Lets VDO Gauge my '97 318ti Sport: Part 1

For info on the 328is install, click here.
PART #2, click here
PART #3, click here

Having purchased and installed the BMP / VDO three gauge package in my '96 328is, I wanted to do the same for my '97 318tis. As of yet, no one makes a package for the ti. I wished someone did. I looked into having a three dimensional piece made. The cost is in the thousands. I decided to make my own, not knowing if it was at all (as a project) possible.
Turns out that, after much thought and time, it is. The main reason no one makes one, is that the available height, in the console, is not there. To make it work you have to modify the optional VDO U-shaped gauge brackets and lamp holders. You also have to modify the existing cigar lighter / ash tray assembly and construct a panel to accept the gauges. This panel could also be Carbon Fiber.
If you want to retain them, you also have to relocate the alarm LED and cigar lighter. This all seems like a monumental task. Taken one step at a time, it is really a piece of cake. You have to be somewhat mechanically and electrically handy. You also need some tools, not common to the homeowners toolbox. The most difficult development and time consuming part (for me) was installing the oil pressure sending unit and relocating the cigar lighter.
This is how I did it, based on my knowledge and standards using the tools I happened to have or have access to. Feel free to do it your way. Keep in mind that I had no guide. The look and function is awesome. The look is factory. The look_at_night is Wow! For a picture of the installation connect to: Ken Potter_at_www.knighted.com. For additional pictures related to this project, contact me. Here we go. VDO Guages installed in 1997 318ti with custom mounting panel:
Call VDO 540-665-2428 for a free catalog. I purchased the VDO items from BCI Performance Warehouse 404-522-3497. Although there prices are good, there inventory sucks. Ask for Jim Summerville. Be aware, that if you order non-stock items from them you pay incoming and outgoing UPS shipping charges.
VDO Parts: (Gauge part #'s are for their Vision Series)

QTY     Description                                      Part #    Price
 1  Gauge, Oil Pressure 80 PSI                            350104   $21.90
 1  Gauge, Oil Temperature 300 DEG F                      310106   $21.90
 1  Gauge, Voltmeter 12 VOLT                              332103   $21.90
 3  Adapter U-bracket                                     600402   $2.97 each
 1  Sender, Oil Pressure 0 - 80 PSI M10x1K w/ 7PSI Warning
    Contact                                               360006   $27.00
 1  Sender, Oil Temperature 300 DEG F                     323092   $20.82
 1  Adapter Pressure Sender                               150752   $14.25 
 1  Adapter Angle Male M12x1.5 / Female M10x1             240043   $23.61

                                         Total = $160.29  + shipping / no tax







Tools:    5mm allen wrench
          19mm (3/4 inch) combination wrench
          24mm combination wrench
          T30 torx socket  (male)
          7/32 inch drill bit 
          Lenox hole saw 1 1/16 inch part # 17L Tools On Sale 1-800-328-0457 $6.98 
          Lenox hole saw 2 1/16 inch part # 33L Tools On Sale 1-800-328-0457 $11.14
          Lenox arbor part # 6L Tools On Sale 1-800-328-0457 $14.44
          A couple of long screwdivers 
          One of those pick up things. (you will definitely drop things) I have two. Tip: I 
           cut off two of the four tangs from one. This let me reinstall the BMW oil 
           pressure switch, when I found out the angle adapter and sending unit would 
           not fit (after three hours total job time). Thats why you also need the VDO 
           pressure sender adapter.    







Other stuff:



           A dozen or so 4mm 0.7 pitch nuts, flats and lockwashers. 
           14 gauge mtw or thnn or thwn or awm wire for the sending units.
           20 gauge teflon wire for the gauge panel
           Push on blue female 1/4 inch tab connectors
           Blue straight side connectors (like the round hole ones with
             straight sides)
           Blue tap-in connectors
           Red male/female bullet connectors (If you want to remove the gauge
             panel)
           Other obvious stuff, ty-wraps ETC.







See part 2: We will construct the panel, relocate some
stuff, install the gauges and wire the gauge panel.






For info on the 328is install, click here.

 PART #2, click here 

 PART #3, click here 











Unofficial Homepages: 
  [Home] 
  [E12] 
  [E24] 
  [E28] 
  [E30] 
  [E34] 
  [E36] 
  [Z3] 
  [E39] 
  [E46] 
  [X5/E53] 
  [ALL] 
  [ Help ]