Home
E12
E24
E28
E30
E34
E36
Z3
E39
E46
X5/E53
ALL
Ron Stygar
Carl Buckland
Dale Beuning
Forums
Help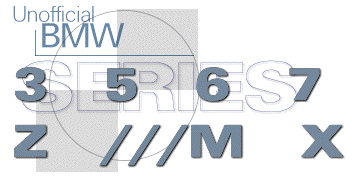 ---
---
BMW Digest FAQ Version 4.0
---
Section 2: BMW, Clubs and Information Sources
---
Table of Contents:
2.1: BMW AG and BMW NA
2.2: BMW CCA
2.3: Other clubs and organizations

        2.3.1:   BMW ACA
        2.3.2:   Special Interest BMW Groups

2.4: Other BMW information on Internet

        2.4.1:   BMW mailing list
        2.4.2:   WWW sites
        2.4.3:   specialty car pictures
        2.4.4:   Other automotive mailing lists
        2.4.5:   Misc

2.5: BMW books & Manuals

        2.5.1:   Repair Manuals
        2.5.2:   Sales literature
        2.5.3:   Misc publications
        2.5.4:   Manuals on CD-ROM

---
2.1: BMW AG and BMW NA
---
BMW AG is the "real" BMW company. Based in Munich, Germany, they design and manufacture the cars.
BMW NA is the subsidiary in charge of marketing cars in the US (not sure about Canada, etc). Perhaps because they are a marketing organization, in my experinece I have not found their level of profesionalism as high as BMW AG, but they are the folks we have to deal with over here. There are some signs the situation is improving, with renued interest in supporting motorsports in this country, greater interest in the BMW clubs and a trend toward providing us with performance, rather than just luxury cars.
Contact the "BMW NA Customer Relations Office" at: BMW of North America Inc.
Customer Assistance Center
P.O.Box: 1227
Westwood NJ 07675-1227
(800)831-1117
---
Greetings From BMW Canada,

Just a quick message to let Canadian owners know that they can also E-Mail questions regarding Canadian vehicles to this address: bmwcan_at_bmw.ca or visit our web site at http://www.bmw.ca. where we will also be happy to answer your questions.
---
2.2: BMW CCA
---
The BMW Car Club of America is the largest BMW club in the US. It has a national organization which prints an excellent monthly magazine called the Roundel, which is full of quality articles and pictures, classified adds and lots of adds for parts suppliers and tuners specializing in BMWs. The club also has local chapters all around the country. Each local chapter puts out a newsletter and sponsors events such as driving schools, rallys, concours, fall foliage tours, etc. The driving schools, one of the most popular events, is a great way to learn to drive in a sporting manner with good instruction and at a reasonable price.
To join the BMW CCA (and automatically receive the Roundel) you may call (800) 878-9292 between 9:00am and 5:00pm EST with visa or Mastercard. Or you can send name, address, phone (optional) , BMW model and year (optional) to:

        BMW Car Club of America, Inc.
        2130 Massachusettes Avenue
        Cambridge, MA  02140-9850

The cost of membership is $35. You may enclose a check in U.S. funds or a Visa or Mastercard number (include exp. date). The club also has several officers on the internet.
The new BMW CCA web site is now on line at
http://www.trader.com/bmwcca
It provides information on BMW CCA activities, membership and benefits. It also provides links to several local chapter sites and other sources of BMW info.
---
2.3: Other clubs and organizations
---
2.3.1: BMW ACA
---
The BMW ACA is a smaller BMW club located in the western states. Here is some info on them:

Background...
BMW ACA, Los Angeles Region, was founded in 1970 to promote the enjoyment of owning and driving a BMW automobile. In 1986 we expanded to include riders of BMW motorcycles. Our affiliation with the International Council of BMW Clubs and BMW Clubs Europa reflects our enthusiasm and the recognition we have with official BMW organizations worldwide.

Newsletter...
The "Whispering Bomb", our newsletter, is published monthly for our members and friends in the BMW motoring community. It gives timely BMW and club news, and information of lasting interest. coverage includes technical information, racing reports and details of past and future club activities. Classified ads are free to members.

Activities...
BMW ACA activities are many and varied. The Spring Wine Tour and the Fall Oktoberfest are typical of our celevrations of BMW family life. Parties, picnics, clean car shows, charity and other special events fill out our year. our BMW ACA Nurburgring West Driving SChools are among the finest in the world, rivalling many professional high performance driving schools (at a fraction of the cost). Autocross/slaloms, rallies, and tours are also available for the enthusiastic BMW driver and rider.

Discounts...
Many BMW dealers, parts and accessory houses, service facilities and others support our club and its activities. Most of these extend favorable prices to our members. Many members find that this added benefit, in the course of the normal purchases, saves them more than the cost of their membership.

Technical Assistance...
technical seminars cater to all levels of interest and ability. Topics range from simple maintenance to diagnosis, troubleshooting and modification for even better performance. Shop manual and many special BMW tools are available for loan to members. Additional assistance is always available by telephone.

Meetings...
General meetings are held on the second Wednesday of each month and are open to anyone interested in BMWs.

Membership Information...
The BMW Automobile Club of Amercia, Los Angeles Region, includes the counties of Los Angeles, Orange, Ventura, Riverside and San Bernadino. Dues for members residing within this region are $25.00 per year. The dues for non-regional members are $18.00 per year. As a new member, you are charged a one-time additional fee of $5.00 providing you with a package of club paraphernalia. your dues include membership in BMW Clubs Europa e.V., the monthly newsletter... and the fun of associating with people who share your love of BMWs.

For further information: Please call... 818.968.7755

Or:
E-mail : brian.foster_at_ast.com
Phone : 714.727.8036 (w) 714.858.4515 (h) Address: 13700 Alton Parkway Suite 154

Irvine, CA 92718-1618
---
There are also several international BMW clubs, and an international council of BMW clubs, of which BMW CCA is a member.
---
2.3.2: Special Interest BMW Groups
---
From: markm_at_divi.com (Mark Magee)
Date: Fri, 11 Aug 95 01:00:22 PDT

>From time to time people ask where they can find information about an old, unusual, or special BMW. There are several special interest groups for these kinds of BMWs.

I know nothing about these groups, but have simply retyped (below) the contact information available on the dust jacket of every Roundel (the publication of the BMW CCA).
...
-MRM http://www.best.com/~ren/bmw/ggc.htm
---
BMW Vintage Club of America, Inc.
Thomas V. Graham, P.O. Box S, San Raphael, CA 94903 Day: (415) 897-0220, Eve: (415) 479-4378, Fax: (415) 898-0831

524td
Douglas Hotes, 1800 W. Hoteco Ave., Anchorage, AK 99502-1135 (907) 243-2222, Fax: (907) 243-1148

Miniatures (models and other BMW memorabilia) George Grenz, 3210 E. Maplewood Ave., Littleton, CO 80121 Day: (303) 861-8555, Eve: (303) 770-3765

M635/M5 (Grey market and US)
Stan Simm, 800 Chancy Lane, Winston-Salem, NC 27104 Day: (919) 727-5268, Eve: (919) 768-4415

M535is (Euro E12 & E28)
Clark Cook, P.O. Box 892, Concord, NC 28025 Eve: (704) 786-9784

Early 60's Sedans (1500, 1600, 1800, 2000) Bob Kaufman, 1401 Pennsylvania NE #2145, Albuerque, NM 87110 (505) 837-1312

E30/E36 M3 Register
Russ Wiles, 826 Southwest, Sioux Falls, SD 57104 Eve: (605) 332-3428

700, '59-65
Paul & Edwina DeRousse, 1180 Hollenbeck Ave., Sunnyvale CA 94087

1600 GT
Henry J. Manfredo, 326 Luiseno Ave., Oceanside, CA 92057 (619) 630-5881

1600/2002 Cabriolet
Carl Nelson/Peter Sliskovich, 710 Turquoise St., San Diego CA 92109 (619) 276-4226

323i
Paul Sloane, 2431 Hideaway, Dallas, TX 75214 Eve: (214) 328-3234

2500, 2800, Bavaria, 3.0S, 3.0Si (1969-76 four door sedans) Gary Apps, 3503 Kenbrooke Ct., Kalamazoo, MI 49006-5436 (616) 375-1364, Fax: (616) 375-9460

2800 CS, 3.0CS, CSi, CSL (1970-75)
Roger Wray, 2409 Blackburn Ct., Virginia Beach, VA 23454 Fax: (804) 481-4982

2000 Coupe
George Phemister, 351 MacKay St., Ottawa, Ontario, Canada K1M 2B7 Eve: (613) 746-0027

2002ti
Richard J. D. Poole, Dufferin St. Inglewood, Ontario, Canada L0N 1K0 (905) 838-2205

2002 Factory Turbo
Ron Slusser, 4508 Littleton Pl., La Canada, CA 91011, USA Day: (818) 354-3267

02 Series (1502-2002)
Anthony Velleco, 19 Green St., Marblehead, MA 01945

02 Series Touring
Dennis Ryan, 6750 Allison St., Arvada, CO 80003 (303) 467-2002

6 Series Registry
Steven F. Haygood, 1011 W. Gordon St., Thomaston, GA 30286 Eve: (706) 647-8100, Fax: (706) 647-5886

325iX
Gordon Haines, 11375 E. Vassar Dr., Aurora, CO 80014 (303) 750-9045

M1 Register
Gordon Medenica, 24 Randall Place, Pelham, NY 10803 Eve: (914) 738-7342

Microcar & Minicar Club
P.O. Box 43137, Upper Montclair, NJ 07043
---
2.4: Other BMW information on the Internet
---
2.4.1: BMW mailing list
---
This is the FAQ of a very active mailing list on the internet run by Richard Welty <welty_at_balltown.cma.com>. It has over a thousand subscribers world wide. Digests of posts are sent to subscribers several times each day.

To subscribe send a note to:

bmw-digest-request_at_lists.balltown.cma.com

with the body:

subscribe

You will then receive information on how to post, etc.

Other information is available, including this FAQ and a list of most subscribers to the mailing list, including the cars they own and who does what DIY work. To see what information is available for download send the address above the command:

index

You can get additional help on downloading files, etc by sending the command

help
---
(by John Firestone: jfiresto_at_awi-bremerhaven.de)

This program is a Unix-daemon that filters digests from the bmw list to a separate mail box. It explodes the digests back to their original, individual messages, which you may then merrily peruse with your favorite mail reader.

(NOTE: program deleted, contack john)
---
(by John Firestone: jfiresto_at_awi-bremerhaven.de) I have finished another version of my bmw-digest undigestifier, a program for UNIX workstations and computers that:
explodes bmw-digests into separate mail messages,
eliminates most junk messages (including bounced and repeated digests)
and detects and requests missing digests.
---
(NOTE: A list of many members of the list and DIYers is availble from balltown in a seperate file than the FAQ. It is maintained by John Gong:jgong_at_netcom.com. Send him mail if you would like your name to be added)
(by Brian Foster: brian.foster_at_ast.com) Only BMW vehicles (including automobiles and motorcycles) are listed. This list is created solely for the information and enjoyment of those on the Internet-accessible BMW interest list. It may not be used for any commercial purposes. The use of this list also falls under the appropriate use policy of your internet access provider. Be familiar with this policy and heed its limitations regarding use of the internet resources for commercial purposes.
All adds, deletions, changes, and queries regarding this list should be sent directly to Brian Foster at brian.foster_at_ast.com. In addition to your own information, I would appreciate any notes stating that other persons on the list have already left and their entries are no longer valid. I'll take the responsibility to delete them and risk the flames.
For additions and changes, please provide responses in the following format:
Model_Type Year Model_Name Purchased Mileage First_name Last_name <E-MAIL> Location
using a space to separate each field (and an underscore in the State and City fields to indicate a space). A question mark ("?") is placed in those fields where no information is available for simpler conversion to HTML for Jim Shank's WWW page.
Where,
Model_Type = BMW Model Designation (optional, if known; example: 2002Tii's

              are "E10" -- see FAQ)
Year        = Model Year of the vehicle (in YY format, like "74" for 1974)

Model_Name = BMW Retail Model Name (example: 2002Tii) Purchase = Purchase Date (in YY/MM format; example 92/12 is December 1992 or

              95/04 is April 1995)
Mileage     = Mileage (in ##K for miles or ##Kkm for kilometres)

First_name = First Name
Last_name = Last Name
<E-MAIL> = Please list the e-mail address the mail list uses and then

              mention the address where you would like correspondence to be
              sent if different (I use the mail list address to verify that your
              listing is still valid)
Locations   = in Country,State or Province,City format;  since this is a list
              made up of a majority of USA residents, I assume USA; use
              underscore character to indicate a space (example: my hometown is
              CA,Rancho_Santa_Margarita)

for example,
E10 74 2002Tii 92/12 2K Brian Foster <brian.foster_at_ast.com> CA,Rancho_Santa_Margarita
Also list any assistance you can provide to list members (offers for assistance in the area should include phone numbers).
---
2.4.2: WWW Sites
---
2.4.3: Specialty Car Pictures
---
2.4.4: Other automotive mailing lists
---
(by Richard Welty: welty_at_balltown.cma.com)

(NOTE: This is a regular posting on "rec.autos" & "rec.autos.*" )

Electric Vehicles

(send requests to info-ev-request_at_ymir.claremont.edu)

Exotic-Cars

(send requests to exotic-cars-request_at_sol.asl.hitachi.com)

Fabrication (race cars)

(send requests to racefab_at_pms703.pms.ford.com)

Italian Cars

         (send requests to italian-cars-request_at_balltown.cma.com;
         both regular and digest forms available)

Porsches
(send requests to porschephiles-request_at_tta.com)
Rally
(send requests to rally-request_at_stratus.com)
School (high performance driving schools)
(send requests to school-request_at_balltown.cma.com)
Wheel-to-Wheel Racing

         (forum for race drivers, workers, crew, and wannabes;
          send requests to wheeltowheel-request_at_abingdon.sun.com)

---
(by Tom Childers)

This is a mailing list for *all* models of BMW Motorcycles, any topic is welcome. The list addresses are:

   to subscribe/unsubscribe                 bmw-request_at_rider.cactus.org
   to mail to the list                              bmw_at_rider.cactus.org

The list software supports both per message and digest formats. The digests are currently sent out once a day, at 1400 hours. These times are purlely arbitrary and may change without notice.
You may automatically subscribe to the list/digest via a message to the admin address (bmw-request_at_rider.cactus.org) with one of the following subject lines:

   Mailing List       Subject: subscribe
   Digest List        Subject: subscribe digest

---
2.4.5: Misc
ftp.balltown.cma.com/misc/Autos/bmw/ The BMW FAQ is available here, and so are photos and other info.
BBS (not internet, just direct dial) Classic Car Highways BBS, <703-707-2054>, no charge except long distance. They offer a BMW resource book and a few other interesting things.
---
2.5: BMW Publications
---
2.5.1: Repair Manuals
---
(by: Rick Kjeldsen fcmk_at_watson.ibm.com)

For the E30 and E28, the Bently repair manuals are generally thought of as the best. The BMW shop manuals are very good, but they assume lots of prior knowledge and special tools.
---
(by: Sam Chien-shin Lin:sam_at_cmd.com & Tim Rogstad)

For the 2002 and 320's the Haynes books are very good. They are based upon a complete teardown and rebuild. They are better organized than Bentley, and have all specs in tabular form in the beginning of each chapter. However, the British English is a bit difficult to get used to. Some of them have glossaries. Also, Haynes tends to include weird euro car information, such as 316's and carbureted 320's, which some will find handy, and others, confusing.

Haynes also has a terrific Weber manual - a must read for anyone who is serious about maintaining or tuning Webers - which covers all models from down drafts to side drafts.
---
From: "Ware Adams" <adams_at_deanco.com>
Date: 1 Sep 1995 09:21:27 U

Have you tried TMC Publications in Baltimore (410-367-4490)? They deal in factory service and parts manuals, but they may sell you a specific section. Then again, it may be useful to have the entire manual for a rare (in the US) car.

Good luck,
Ware
'72 2002tii
'74 2002tii
---
2.5.3: Sales literature
---
From: fredric beck <fredric_at_ux5.lbl.gov> Date: Thu, 8 Dec 1994 21:15:15 -0800

You might try Walter Miller for sales literature for your '91 318is. I have not bought anything from him, but did receive his listing of original BMW sales & service literature which stems from 1955 to present. (He advertises in the Roundel.) He has some interesting items, including original posters, press kits, manuals, etc. The contact address is:

Walter Miller
6710 Brooklawn Pkwy.
Syracuse, NY 13211
phone: 315-432-8282
FAX: 315-432-8256

Happy hunting!
---
2.5.3: Misc publications
---
(by Al Cote:cote_at_uscbu.ih.att.com)

"Illustrated BMW Buyer's Guide"
by Ken Gross
Motorbooks International
Osceola, Wisc. - 54020
Many pictures and specs on BMWs from the early days to the mid eighties. Most US cars are shown in the photos. The European ones are mentioned in the text along with engine and styling differences. This book is a "must have" reference. Published 1984, $16.95.

"Bosch Fuel Injection and Engine Management" by Charles O. Probst, SAE
Robert Bentley Inc., Publishers
1000 Cambridge Ave.
Cambridge, Mass. - 02138
Describes all Bosch fuel injection systems from the first Jetronic through the new Motronic systems. Includes chapters on diagnosing problems and performance tuning. Learn about Thermotime switches, throttle switches, air flow sensors, mass meters, control of air-fuel ratio, measured and un-measured air. Published 1989, $29.95.

"Sports Car and Competition Driving"
Paul Frere
Robert Bentley Inc., Publishers
1000 Cambridge Ave.
Cambridge, Mass. - 02138
Originally published in 1963. Updated, except for the old photos, in 1992. Covers your basic driving school topics in exceptional detail. Well done and easy to read. $17.95.

"Secrets of Solo Racing"
by Henry A. Watts
Loki Publishing Co.
849 Gary Ave.
Sunnyvale Ca. - 94086
Distributed by
Motorbooks International
Osceola, Wisc. - 54020
Probably the best book on driving skills since Frere's "Sports Cars and Competition Driving." Published 1989, $14.95.

"Bosch Automotive Handbook"
Ulrich Adler, Ed.
Published by:
Robert Bosch GmbH, 1993
Postfach 30 02 20, D-70442 Stuttgart. Automotive Equipment Business Sector, Department for Technical Information
Worldwide distribution:
SAE Society of Automotive Engineers
400 Commonwealth Drive
Warrendale, PA 15096-001 USA
ISBN 1-56091-372-X
Approved Edition:
Robert Bently, Publishers (see above) ISBN 0-8376-0330-7
An amazing general automotive encyclopedia. Everything from basic physics to corrosion theory to engine cooling, vehicle dynamics and electrical seat adjustment.
---
2.5.4: Manuals on CD-ROM
---
From: Peter Bolmida <pbolmida_at_sinclair.edu> Date: Wed, 27 Sep 1995 14:46:34 -0400 (EDT)

Good news:

CarDisc International < P.O. Box 608 Livonia NY 14487 (716) 346-4549> is negotiating with PCNA to put the service, parts, and owners manual of all Porsche cars on CD-ROM. Currently, they do this for most Alfas and plan to have the Porsche ones available in a few months, depending on how things go with PCNA. BMW is targeted after Porsche.

Better news:

The price: $69.95, 2 _at_ $59.95 each!

I copied this posting from the Porsche list... Thought you would find it interesting.

Unofficial Homepages: [Home] [E12] [E24] [E28] [E30] [E34] [E36] [Z3] [E39] [E46] [X5/E53] [ALL] [ Help ]