Home
E12
E24
E28
E30
E34
E36
Z3
E39
E46
X5/E53
ALL
Ron Stygar
Carl Buckland
Dale Beuning
Forums
Help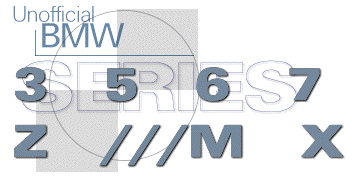 ---
From digest.v7.n252 Wed Sep 10 14:26:27 1997
From: Jim Cash <j.cash_at_sympatico.ca>
Date: Wed, 10 Sep 1997 14:59:17 -0400
Subject: Availability of Options


For general information, when I researched the order for my E39 car I did a comparison between features & accessories available in Canada and Europe (mostly UK).

There are many items available elsewhere that we can not get here - yet. They are not providing them to try an keep our prices down - which is nice, but hopefully they will change their marketing strategy and allow us to purchase these as "non standard" options. Probably would mean a higher cost for these options, and agreeing that parts would be slow for these - but hey at least dont't treat us like second class customers.

If you agree you may wish to express you desires, in your own words, to your local retailer, or to BMW direct.

On the other hand if you compare base prices we come off much cheaper, and get more standard stuff to boot.
---
Comparrison list is as follows.
Differences between Canadian & UK 540 series - Standards & options Does not list those features/options that are available in both locations (i.e. M sport suspension)

                                                Canada          UK, etc.
                                               _________      
_________     
        STANDARD ITEMS          
Comfort seats, with memory                      standard        option
Multi-function Steering wheel                   standard        option
Ski bag                                         standard        option
"Business" radio & HiFi Speaker system          standard        option
CD preparation wiring                           standard        option
Phone preparation & wining                      standard        option
Air conditioning & Sun Roof                     standard        1 or other 
                                                                option both
Rear Fog lights                                 NA              standard
Manual Headlamp height                          NA              standard
Warning Triangle                                accessory       standard
First Aid kit                                   accessory       standard
Drivers side storage compartment in lower dash  NA              standard
Front centre armrest with interior storage      NA              standard

we get sliding armrest with no storage

        OPTIONS AVAILABLE               
Steptronic Transmission                         no        no cost option
EDC - Electronic suspension control             no              yes
Rear Axle Level Control                         no              yes
Servotronic power steering (speed related)      no              yes
Auto Dimming "Door" mirrors                     no              yes
Rain sensor for wipers (special windshield)     no              yes
Xenon Head Lights                               yes             yes ?
Heated steering wheel                           yes             yes ?
On Board Monitor - without Navigation           no              yes (Italy)
On Board Monitor - with Navigation              no *            yes
Latent Heat reservoir                           no              yes
No Smoker package                               no              yes
Front loading CD - instead of tape              no              yes
No model inscription                            no              yes
De-chroming (black mat)                         no              yes
"Multifunctional electric ""M Sports"
 Steering Wheel with airbag"                    no              yes
Double Glazing                                  no              yes

Navigation available in US now - not Canada
Cheers
Jim Cash
London Ontario Canada
E39 540ia
Unofficial Homepages: [Home] [E12] [E24] [E28] [E30] [E34] [E36] [Z3] [E39] [E46] [X5/E53] [ALL] [ Help ]