Home
E12
E24
E28
E30
E34
E36
Z3
E39
E46
X5/E53
ALL
Ron Stygar
Carl Buckland
Dale Beuning
Forums
Help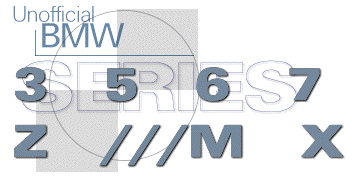 ---
---
Date: Sun, 16 Aug 1998 12:38:22 -0400
From: Jim Cash <j.cash_at_sympatico.ca>
Subject: Re: E39 wiring

Bruce Mitchell writes:
> I'm trying to help someone install a V1 into a '98 540i. I usually tap
> into the sunroof's switched hot line but the E39's color codes are quite
> different than my E36. Can anyone experienced with the E39 tell me
> which wires to tap into?
Bruce
I would not recommend using the sunroof wiring - there is some software control of the sunroof operation, and you don't want to risk inteferrence.
Instead I use the power lead that is for the optional "universal transmitter" (garage door opener) that also gets mounted in that upper console panel.
The wiring for it should already be there - small 2 wire connector (green/white & brown wires). Green/white wires always have power with the ignition. There is a separate fuse for this circuit - in fuse panel above the glove compartment.
Hope that helps.
Cheers
Jim Cash
London, Ontario, Canada
BMW CCA 102929
E39 97 540iA
Unofficial Homepages: [Home] [E12] [E24] [E28] [E30] [E34] [E36] [Z3] [E39] [E46] [X5/E53] [ALL] [ Help ]