Google Search

Search (Google!!)
Search Amazon.com
Home
E12
E24
E28
E30
E34
E36
Z3
E39
E46
X5/E53
ALL
Ron Stygar
Carl Buckland
Dale Beuning
Forums
Help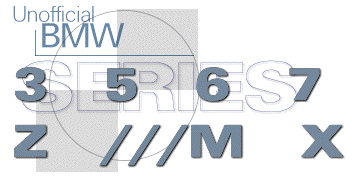 ---
From digest.v6.n45 Fri Jan 10 20:19:15 1997
From: "Carl Buckland" <buckland_at_xmission.com>
Date: Fri, 10 Jan 1997 15:50:21 +0000
Subject: Wheel/Tire Fitments for M3


Wheel/Tire fitments for the E36 M3

After a great deal of trial and error, I have a few empirical findings on the fitment of aftermarket wheels and tires on the E36 M3. I would appreciate any other findings, or ideas.

The stock wheels on the 94 and 95 M3's are 17 x 7.5, with a 41mm offset (ET). They are fine for a 235/40, but probably too narrow for anything much bigger. A 245/40 will fit, but an 8 or 8.5" rim would be better. 17x7.5 works ok with 235/45 R1's, but both the R1's and the stock tires would fit even better on an 8 or 8.5" rim. My conclusion is that one should always use at least an 8" wide rim, unless stock rules require the use of the OE 7.5" rims.

A 17 x 8 rim, with a 38mm offset fits perfectly. It gives a slightly wider stance, and more clearance for the spring perch in the front, especially important if you are using a lot of negative camber. I have adjustable spring perches on my H&R's, which are much smaller in diameter than the stock perches, yet they still rub when I crank in 3 degrees or more negative camber, *and* lower the car to near the lowest setting.

A 17 x 9 rim with a 46mm ET will work on the rear, but requires a fender lip roll. Now that I have done it, it is no big deal; it can be done by any competent body shop for $100 to $150. I mounted a 17 x 9 rim with a 255/40/17 Pirelli P-Zero, and the rear fit perfectly. In the front, it rubbed on the struts, so I installed an H&R hubcentric spacer, 15mm per side, and the fit was perfect. One more perameter....my car has an H&R coilover suspension on it, which takes the rear .75 to 1" lower than stock, and the front was set with the adjustable spring perch set at about 1/2" below the top, which would mean the car was about 1 to 1.25" lower than stock. I am not sure what affect lowering the spring perch would have on fit.

A quick note on spacers (this is a whole other topic): H&R has a vast assortment of sizes, ranging from 10mm per side, to 25mm or more per side. The really big spacers require their own studs. The others must be ordered with longer studs, that go thru the spacer and into the original wholes in the hub. The H&R's are *hubcentric*, which is absolutely necessary for vibration and safety. I think that shaving the wheel hubs for fit is okay for small clearance problems, but if one needs to bring the wheel in a *lot* to clear the fender well (say, the wheel has a 32mm ET, and needs to come in a half inch or more to clear), I think that it is better to get a wheel with more offset, say a 41mm, so that the fender clears, and then use spacers on the front if spring perch clearance is a problem. Also, shaving the hubs on the rear, and not the front, leaves you with "front and rear" wheels that can't be rotated or interchanged.

An 18 x 8.5 rim with a 38mm offset will work with 225/40/18 P-Zeros, but does require the rear fender lip roll. I also believe that a 235/35/18 would work, but they were not yet available when I bought mine. I have BBS RS II's. They are absolutely beautiful, and make the car look ultra aggressive.

I do not think that either the 17" or the 18" rims will work in any width unless the offset is *at least* 38mm.

Conclusion: If you want to go to the biggest rim possible, I believe that the 17 x 9 with a 46mm offset is the ticket, as long as you use 15 mm hubcentric spacers in the front. The problem is a big one: 46mm ET would not give you as much inside clearance as you might need if you go to AP brakes, which is my next step.

I am set on the BBS RC for a race wheel. It is ultra light, very attractive, easy to maintain, and very strong. It is a one piece wheel. Unfortunately, the wheel is only available in one 17" size that will work on the E36 M3: 17 x 8. (they don't make 18" R1's), with a 38 ET. The 17 x 8 will be perfect for the 235/45's , but a little narrow for the 255/40's, which is the size that I would really like to run this year. I will try out the wheel with a pair of 255/40/17's that Bob Tunnell was kind enough to ship me, and let you know how it goes. Incidentally, the RC's have been in the news for months, but have not been available until very recently. The finish was to be a polished alloy, with clearcoat, but there were problems. They have, instead, opted to powdercoat the polished wheels in a champagne color, and then clearcoat. They call them "Motorsport" wheels.

I hope that this helps those of you looking for upgraded wheel/tire options. I welcome constructive comments.

Carl

I sent a draft of this post to several of the guys on the Net with whom I have been discussing wheel/tire fitment. I will share Bob Tunnell's post in its intirety, as he makes several good points. From: "Bob Tunnell" <bobt_at_wmfilms.com>
Subject: Re: Wheel/Tire fitments for
To: buckland_at_xmission.com

Carl,
(snip) , I would add a
couple disclaimers or words of warning to readers:
Anyone intending on competing in their M3 should check the rules very carefully of their sanctioning body to be sure any changes they make are legal for the category in which they intend to compete. Very subtle changes (like 1mm too little or too much offset) or 1/8" roll in a fender lip, can render your car illegal.
Comparing tire sizes between different brands is like comparing apples and oranges. Anyone contemplating a new tire/wheel setup should always check actual tire dimensions of any tire they're considering using.
Anyone contemplating a new tire/wheel setup should look at *every* aspect of their car's suspension -- and compare it to the reference (Carl's) vehicle -- to determine the suitability of different fitments. (Carl, I'd specify your alignment settings, spring rates, and ride height in addition to offset, wheel width, and tire size. It all affects what will and won't fit.)
Thanks for all your hard work on this -- and sharing it. It's one thing to do your homework, but another to help all of us with ours. (Carl: I think that this is a common trait of those on the BMW Performance List.)
Good luck,
Bob
P.S. You (and others) have mentioned a 245/40 tire. If it's a BFG R1 you're referring to, I think it's a 245/45. I've never seen a 245/40 BFG race tire.
Bob,
I am aware of this. I was simply refering to the common practice of fitting 245/40/17 street tires. Several companies make this size. The only race tire that I am aware of in this size is the Hoosier. The Hoosier 245/40/17 is a good case in point of your comment on how different each company sizes its tires; the Hoosier 245 is bigger than the BFG 255!
Carl Buckland
Salt Lake City, Utah
E36 M3, #27, CSP
Unofficial Homepages: [Home] [E12] [E24] [E28] [E30] [E34] [E36] [Z3] [E39] [E46] [X5/E53] [ALL] [ Help ]