Home
E12
E24
E28
E30
E34
E36
Z3
E39
E46
X5/E53
ALL
Ron Stygar
Carl Buckland
Dale Beuning
Forums
Help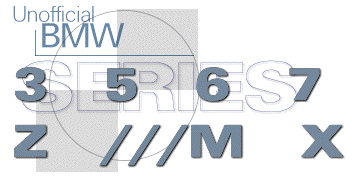 ---
---
Date: Mon, 08 Feb 1999 00:17:38 -0800
From: Boris Elpiner <boriselp_at_altavista.net>
Subject: Re: [E36M3] Re: Asking for info. on Yokohama Nexus tires

At 11:48 PM 2/7/99 -0600, Collin Porterfield wrote: >>Has anyone on the list used Yokohama Nexus tires? Id so, please let me
>know
>>what you thought about them, especially as compared to the Mich. MXX3.
I have installed a set on 235/45/17 Nexus on 17x7.5" TSW Concept 2's on my 97 M3 last weekend and so far I'm very satisfied.
First of all, Nexus are huge for it's size. I have no clearance problems, but if you have a modified suspension, be careful. My car is stock with exception of Koni shocks and alignment.
My initial impressions are very favorable. The ride is comparable with MXX3, and I didn't noticed Yok's being much noisier at highway speeds. I find the steering response and handling more than adequate for driving on the streets, and fairly comparable to MXX3's. The feedback could be just a bit more muted, but for daily driving for me it's a plus. I have not driven on Nexus in the rain yet.
I have to say that I don't push the car to the limit on public roads, and for auto-x and track events I use go-fast BFG's.
In summary I think Nexus's are a fantastic bargain at $107/tire and I can't find significant difference in daily driving with 2.5 times more expensive Michelins.
I hope it helps. YMMV.
Boris Elpiner
97 M3 AS 138
SCCA SFR
BMW CCA GGC
---
Unofficial Homepages: [Home] [E12] [E24] [E28] [E30] [E34] [E36] [Z3] [E39] [E46] [X5/E53] [ALL] [ Help ]