Home
E12
E24
E28
E30
E34
E36
Z3
E39
E46
X5/E53
ALL
Ron Stygar
Carl Buckland
Dale Beuning
Forums
Help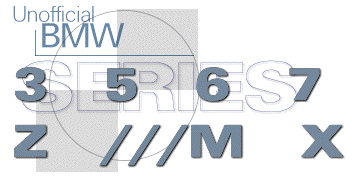 ---
From digest.v7.n1012 Sat Jan 24 08:07:01 1998
From: "Jason H. Leung" <jleung20_at_flash.net>
Date: Sat, 24 Jan 1998 03:03:26 -0600
Subject: Re Bridgestone S02 Tires


Sue writes:

>I have a set of the S-02's on my 97 M3 (235/40/17 ) They are the best looking and
>handling tire I've owned. I find them to be very quiet and smooth. The car feels
>lighter going down the road, doesn't hit the bumps quite as hard as the Pilots.
>And they do really look cool. I get more comments on my tires than the BBS
>wheels.

If you want bang for the buck, you may want to consider Firestone SZ50 tires.
These tires are made on the same line at the same plant as the SO2s in Japan, albeit with a somewhat different tread pattern a little more biased towards rain. What this means is that you retain the chemical composition of the compound of the SO2s.

They are extremely smooth and quiet for hi po tires. You'll trade off a tad in dry grip for bags of wet grip, and its about 50% cheaper than the Bridgestones.

And they come with moulded rim protector bands in certain sizes.
-- Jason Leung 1992 325iK http://www.flash.net/~jleung20
Unofficial Homepages: [Home] [E12] [E24] [E28] [E30] [E34] [E36] [Z3] [E39] [E46] [X5/E53] [ALL] [ Help ]