Home
E12
E24
E28
E30
E34
E36
Z3
E39
E46
X5/E53
ALL
Ron Stygar
Carl Buckland
Dale Beuning
Forums
Help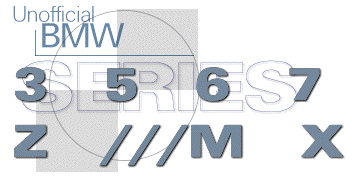 ---
Date: Tue, 23 Feb 1999 11:24:25 -0800
From: Jay Sala <jsala_at_mist.com>
Subject: [E36M3] Anti-roll bar diameters

Here's information I've collected on BMW and aftermarket anti-roll bars. I hope it helps you plan your upgrade (including upgrading an E36 325i/328i to M3 specs).

                         D I A M E T E R                Adjustable (Y/N)
                        FRONT        REAR
BMW
  E36 328i (base)       24 mm       15 mm       No
  95 E36 M3             23 mm       20 mm       No
  M-Technic             25.5 mm     18 mm       No

AFTERMARKET

  RD Sport              27 mm       22 mm       Yes
  Korman                27 mm       22 mm       Yes
  Eibach                26 mm       24 mm       ??
  Dinan                 22 mm       21 mm       Yes

Thanks to Brian and Nat at Bavarian Professionals of Berkeley for helping me pull the information on BMW anti-roll bars. Information on aftermarket anti-roll bars came from previous posts to the BMW digest. Who would have expected the M3 to have a smaller front bar than a 328i??!!
If anyone has info on the 96-99 M3 suspension and the optional E36 325i/328i Sport package (is that the M-Technic?), let me know and I'll repost the table above.
Thanks.
Jay Sala
BMW CCA, Golden Gate Chapter
E36 328i
M3 suspension / MContours / Scroth Rallye4 / Sharked!
---
Date: Tue, 23 Feb 1999 16:24:40 -0500
From: "Ben Liaw" <ben_at_powersolution.com>
Subject: Re: [E36M3] Anti-roll bar diameters - the ti wins!

nice list, jay.
however, if the *biggest* is what you're after, there may be a solution that is offered...by BMW.
i've spoke to jason _at_ zionsville autosport and another 330ti owner that they do indeed have the stock 318ti front sway bars with their 6-cylinder motors in place. most people know that the ti bars bolt to the control arm (where M3 bars bolt to the strut).
we're installing the 3.2L M3 motor into the 318ti this weekend and one of the items we're addressing is the front sway bar. by using stock M3 sway bar links in conjunction with an M3 compatible strut, we can connect the 28mm 318ti bar just like the M3 bar. however, we've not go the BIGGEST bar available.
will keep you updated on the results.
bl
---
ben liaw
powersolution.com
t | 201.493.1414 x 303
f | 201.493.8494

Unofficial Homepages: [Home] [E12] [E24] [E28] [E30] [E34] [E36] [Z3] [E39] [E46] [X5/E53] [ALL] [ Help ]