Home
E12
E24
E28
E30
E34
E36
Z3
E39
E46
X5/E53
ALL
Ron Stygar
Carl Buckland
Dale Beuning
Forums
Help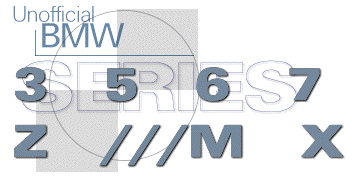 ---
---
From digest.v6.n744 Sat Jun 7 17:45:32 1997
From: "MALLER.NEIL"<maller.neil_at_mlink.motors.ge.com>
Date: Sat, 07 Jun 97 10:38:21 -0500
Subject: Re: <E36> shocks - replace?

>From: paul_at_research.bell-labs.com (Paul Krzyzanowski)
>Date: Fri, 6 Jun 1997 09:46:17 -0400
>Subject: <E36> shocks - replace?
>A few weeks ago I took my '93 325is to Princeton BMW for
>a complimentary inspection. The verdict was that all was
>fine but the "rubber is starting to separate from one of
>the rear shcoks". The recommendation that came in the mail
>was for me to give them $264.35 and get both rear shock
>tops replaced. I'm not well versed in this area and the
>shocks seem to operate fine for me. Not wanting to take
>their recommendation on blind faith, how can I evaluate the
>condition myself (what should I look for)?
Paul,
This is a well known E36 issue, in fact the Roundel carried an article not too long ago on how to do the replacement yourself. The rubber and metal parts of the bushings where the rear shocks attach to the shock towers separate from one another. The symptom is a clunking sound when you pass over low speed bumps such as railroad crossings.
Note that the parts to be replaced are not the shocks themselves - unless of course they're worn out also - just the bushings.
I had this done under warranty on my '92 325i.
Neil
96 M3
92 325i
88 300E
77 MGB
Unofficial Homepages: [Home] [E12] [E24] [E28] [E30] [E34] [E36] [Z3] [E39] [E46] [X5/E53] [ALL] [ Help ]