Home
E12
E24
E28
E30
E34
E36
Z3
E39
E46
X5/E53
ALL
Ron Stygar
Carl Buckland
Dale Beuning
Forums
Help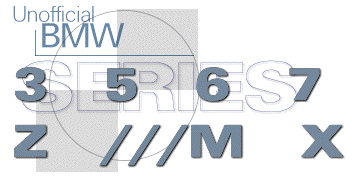 ---
---
From digest.v6.n915 Thu Aug 28 15:10:01 1997
From: "Carl Buckland" <buckland_at_xmission.com>
Date: Wed, 23 Jul 1997 17:05:24 +0000
Subject: Cracked Subframe--Anyone Else?

Ryan asks From: Ryan7878_at_aol.com
Date: Wed, 23 Jul 1997 15:22:15 -0400 (EDT)
Subject: cracked e36 subframe
is there a support or reinforcement available to repair the mounting points on the subframe. i heard that some are availabe from the m3, but cannot find a part number. any help would be greatly appreciated. please respond in private to ryan7878_at_aol.com
xxxxxxxxxxxxxxxxxxxxxxxxxxxxxxxxxxxx
I have an M3, and my subframe broke completely thru on both sides. The engine mounts were literally floating. When I revved the engine, the torque would lift the engine up, and then it would come crashing down.
If this is a common problem (I thought that I had broken it because of excessively hard track use), then maybe we all have a class complaint to make to BMW NA.
Anyone else cracked their subframe? I would suggest that ANYONE with an E36 check theirs. Put the car up on a rack, and look at the engine mounts. If the holes in the subframe where the engine mounts attatch are warn or broken thru, this is what I am talking about. I have a feeling that there are a lot of cracked subframes out there, but people don't know it.
Carl
Carl Buckland
Salt Lake City, Utah
E36 M3, CSP # 27
Fax: 801-531-6690
Unofficial Homepages: [Home] [E12] [E24] [E28] [E30] [E34] [E36] [Z3] [E39] [E46] [X5/E53] [ALL] [ Help ]