Home
E12
E24
E28
E30
E34
E36
Z3
E39
E46
X5/E53
ALL
Ron Stygar
Carl Buckland
Dale Beuning
Forums
Help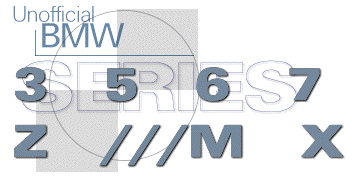 ---
---
From digest.v5.n101 Mon Aug 12 18:38:44 1996
From: schulz_at_Icpd.Mitel.COM (Frank Schulz - mrd)
Date: Mon, 12 Aug 1996 19:59:36 -0400
Subject: <useful info about e36 ball joints>

re: a week ago i said i was getting balljoints replaced under warranty
I learned something, the independant bmw garage (where i bought new tires) looked at the balljoints and thought they were bad, 1/8" vertical play and said "get them replaced under warranty". Later...The authorized bmw dealer said "the joint is ok, because no side play" and showed me another '92 model which had similar vertical play.
I wasn't convinced until we looked at a brand new balljoint.
Turns out the balljoints were ok, it took some convincing, but in the process I educated myself and a couple other mechanics.
The e36 balljoints are unusual in that the lower part (socket part) is not connected directly to the lower control arm, rather it is suspended in rubber surrounded by a metal cup. The metal cup is the part which connects to the lower control arm (i think its pressed into the arm).
Only after examining a brand new balljoint (by using large channel-lock pliers to squeeze the ball part into the socket) we discovered that it doesn't take much force to compress the rubber, and what looks like "balljoint looseness" on the car is really due to the rubber being compressed.
I guess its nice having an extra 'shock absorber' in the system, but the rubber mounts support the full front weight of the car, so keep an eye out for cracks in the rubber! ,a mechanic told me that they do crack.
All this relates to an earlier problem of the car tramlining, which appears to have been cured by new tires (yoko a509). I was told by an autocrosser that the original goodyears i had, when worn down, exposes a harder rubber which no longer 'conforms' to irregularities in the road, thus tramlining.
'92 318is 44Kkm 'tomorrow, out of warranty.. sob'
Unofficial Homepages: [Home] [E12] [E24] [E28] [E30] [E34] [E36] [Z3] [E39] [E46] [X5/E53] [ALL] [ Help ]