Google Search

Search (Google!!)
Search Amazon.com
Home
E12
E24
E28
E30
E34
E36
Z3
E39
E46
X5/E53
ALL
Ron Stygar
Carl Buckland
Dale Beuning
Forums
Help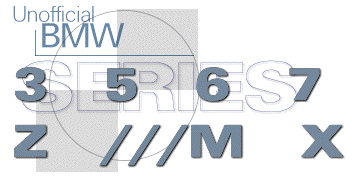 ---
From skram_at_omegabbs.com Wed Jan 23 20:48:41 2002
for <daleNOSPAM_at_unofficialbmw.com>; Wed, 23 Jan 2002 20:48:40 -0800 (PST)
by omegabbs.com (Merak 4.2.1) with SMTP id FGD36631
for <daleNOSPAM_at_unofficialbmw.com>; Wed, 23 Jan 2002 22:47:55 -0600
From: "Mark Sager" <skram_at_omegabbs.com>
To: <daleNOSPAM_at_unofficialbmw.com>
Subject: '<e36> survey entry'
Date: Wed, 23 Jan 2002 22:52:11 -0600
boundary="----=_NextPart_000_0006_01C1A460.980A1DA0"
X-Priority: 3
X-MSMail-Priority: Normal
X-MimeOLE: Produced By Microsoft MimeOLE V6.00.2600.0000


This is a multi-part message in MIME format.

------=_NextPart_000_0006_01C1A460.980A1DA0

charset="iso-8859-1"
Content-Transfer-Encoding: quoted-printable

1992 325i sedan
64000 Miles
Granite Silver (I think that's the official color name) purchased 12-9-01
Automatic, power windows, central locks with alarm, sunroof, heated = seats, just your basic bmw stuff.

I bought this car because my '87 535i I had before it had about 250,000 = miles on it. I loved that car, but after putting about $1000 in various = replacement parts I decided it was time to pass the car on to someone = else and get a newer one. I came across this car at an auction and = bought it for a very reasonable price. The car is in great shape for a = 92 but has a few problems that you'll see in the list.

Major Repairs (done or needed in future)
replaced valve cover gasket first week I had it, it was leaking oil = down into the cylinders, also replaced plugs while I was in there.
Considering having Tranny rebuilt. I'm pretty sure it has a leaking = seal inside. Gets checked out in a couple days
Tires will probably need to be bought in the near future but that has = nothing to do with the car really.
Minor Repairs
replaced front brake pads, rear will be replaced soon
drivers door striker plate needs replaced, the sensor is bad but I'm = too lazy to order a new one
the vinyl stuff on the door panels above the armrest is starting to = pull away, not sure what to do about it
o2 sensor is faulty
changed trans. fluid, filter
regular oil changes
SRS light had to be reset for no reason
For the most part I'm very happy with this car, rides smooth, runs = great, and of course it looks great. I'm not looking forward to = rebuilding the tranny, but I'm just thinking that if I rebuild it I'll = be able to drive the car even longer. I've decided to keep this car = mainly stock. I put a lot of performance parts on my old car, but I = decided since I race once a year, if that, its not worth it. This car = is just going to be a regular daily driver. I'll keep you posted on any = other stuff that happens.=20
MSager
------=_NextPart_000_0006_01C1A460.980A1DA0
charset="iso-8859-1"
Content-Transfer-Encoding: quoted-printable
<!DOCTYPE HTML PUBLIC "-//W3C//DTD HTML 4.0 Transitional//EN"> <HTML><HEAD>
<META http-equiv=3DContent-Type content=3D"text/html; = charset=3Diso-8859-1">
<META content=3D"MSHTML 6.00.2712.300" name=3DGENERATOR> <STYLE></STYLE>
</HEAD>
<BODY bgColor=3D#ffffff>
<DIV><FONT face=3DArial size=3D2>1992 325i sedan</FONT></DIV> <DIV><FONT face=3DArial size=3D2>64000 Miles</FONT></DIV> <DIV><FONT face=3DArial size=3D2>Granite Silver (I think that's the = official color=20
name)</FONT></DIV>
<DIV><FONT face=3DArial size=3D2>purchased 12-9-01</FONT></DIV> <DIV><FONT face=3DArial size=3D2>Automatic, power windows, central locks = with alarm,=20
sunroof, heated seats, just your basic bmw stuff.</FONT></DIV> <DIV><FONT face=3DArial size=3D2></FONT>&nbsp;</DIV> <DIV><FONT face=3DArial size=3D2>I bought this car because my '87 535i I = had before=20
it had about 250,000 miles on it.&nbsp; I loved that car, but after = putting=20
about $1000 in various replacement parts I decided it was time to pass = the car=20
on to someone else and get a newer one.&nbsp; I came across this car at = an=20
auction and bought it for a very reasonable price.&nbsp; The car is in = great=20
shape for a 92 but has a few problems&nbsp;that you'll see in the=20 list.</FONT></DIV>
<DIV><FONT face=3DArial size=3D2></FONT>&nbsp;</DIV> <DIV><FONT face=3DArial size=3D2><U>Major Repairs (done or needed in=20 future)</U></FONT></DIV>
<DIV><U><FONT face=3DArial size=3D2></FONT></U>&nbsp;</DIV> <DIV><FONT face=3DArial size=3D2>&nbsp;- replaced valve cover gasket = first week I=20
had it,&nbsp; it was leaking oil down into the cylinders, also replaced = plugs=20
while I was in there.</FONT></DIV>
<DIV><FONT face=3DArial size=3D2>&nbsp;- Considering having Tranny = rebuilt.&nbsp;=20
I'm pretty sure it has a leaking seal inside.&nbsp; Gets checked out in = a couple=20
days</FONT></DIV>
<DIV><FONT face=3DArial size=3D2>&nbsp;- Tires will probably need to be = bought in=20
the near future but that has nothing to do with the car = really.</FONT></DIV>
<DIV><FONT face=3DArial size=3D2></FONT>&nbsp;</DIV> <DIV><FONT face=3DArial size=3D2><U>Minor Repairs</U></FONT></DIV> <DIV><U><FONT face=3DArial size=3D2></FONT></U>&nbsp;</DIV> <DIV><FONT face=3DArial size=3D2>&nbsp;- replaced front brake pads, rear = will be=20
replaced soon</FONT></DIV>
<DIV><FONT face=3DArial size=3D2>&nbsp;- drivers door striker plate = needs replaced,=20
the sensor is bad but I'm too lazy to order a new one</FONT></DIV> <DIV><FONT face=3DArial size=3D2>&nbsp;- the vinyl stuff on the door = panels above=20
the armrest is starting to pull away, not sure what to do about = it</FONT></DIV>
<DIV><FONT face=3DArial size=3D2>&nbsp;- o2 sensor is = faulty</FONT></DIV>
<DIV><FONT face=3DArial size=3D2>&nbsp;- changed trans. fluid, = filter</FONT></DIV>
<DIV><FONT face=3DArial size=3D2>&nbsp;- regular oil = changes</FONT></DIV>
<DIV><FONT face=3DArial size=3D2>&nbsp;- SRS light had to be reset for = no=20
reason</FONT></DIV>
<DIV><FONT face=3DArial size=3D2></FONT>&nbsp;</DIV> <DIV><FONT face=3DArial size=3D2>For the most part I'm very happy with = this car,=20
rides smooth, runs great, and of course it looks great.&nbsp; I'm not = looking=20
forward to rebuilding the tranny, but I'm just thinking that if I = rebuild it=20
I'll be able to drive the car even longer.&nbsp; I've decided to keep = this car=20
mainly stock.&nbsp; I put a lot of performance parts on my old car, but = I=20
decided since I race once a year, if that, its not worth it.&nbsp; This = car is=20
just going to be a regular daily driver.&nbsp; I'll keep you posted on = any other=20
stuff that happens. </FONT></DIV>
<DIV><FONT face=3DArial size=3D2></FONT>&nbsp;</DIV> <DIV><FONT face=3DArial size=3D2>MSager</FONT></DIV></BODY></HTML>
------=_NextPart_000_0006_01C1A460.980A1DA0--
Unofficial Homepages: [Home] [E12] [E24] [E28] [E30] [E34] [E36] [Z3] [E39] [E46] [X5/E53] [ALL] [ Help ]