Home
E12
E24
E28
E30
E34
E36
Z3
E39
E46
X5/E53
ALL
Ron Stygar
Carl Buckland
Dale Beuning
Forums
Help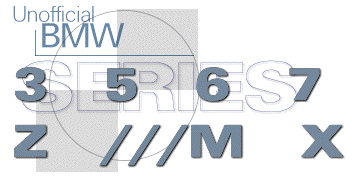 ---
Date: Wed, 14 Nov 2001 20:48:16 -0600
From: "The Abels" <aAbel_at_austin.rr.com>
Subject: Re: [E36M3] Re:stereo survey

I am currently running JL Stealboxes, Boston Acoustic Pro Series front stage, JL Audio 300/4 amp, Kenwood 7017 head unit. The stock stereo system in our cars is horrid. HK included. After you decide to upgrade, the biggest difference that a single component can have is you front stage. So, I comment as follows:
Boston Acoustic Pro Series:
Pros: Great sound. Detailed highs, with very, very accurate and fast midbass. If you like vocals, and want to hear Lyle Lovett (hey, I'm a transplanted Texan) in your car and not behind your a bunch of plastic, you'll like these. Bear in mind, they are power hungry, and need a good amp to run 'em.
Focal:
Their top of the line series Polykevlar and Utopia lines are rock solid, but their lower lines are just average. I couldn't justify the cost difference over the BA's.
Dynaudio:
Almost as good as the BA's. Almost.
Diamond Audio:
Their Hex series component speakers are almost unbelievable. I almost dumped my BA's for these (but stuff much more important like coilovers are calling my name). I don't know what to say. All the pro's of the BA's, with better, smoother high end, particularly with their silk dome tweeter option. This is especially cool for us E36 M3 owners that want to mount the tweeters in the factory location; metal domed tweeters can be quite harsh at times in the stock location. I had to turn down the tweeter level in my BA's -3db. One day, I'll make the plunge.
That's it for me, except that a the Kenwood matches the interior orange lights of our bimmers, and had more detail than the Alpine the shop originally fitted.
---
Date: Thu, 15 Nov 2001 03:13:31 +0000
From: "Mark Radelow" <radelow_at_hotmail.com>
Subject: Re: [E36M3] Re:stereo survey


Hex's are only around $350 for the pair which I believe is right on par, if not cheaper, than the BA's.

Mark
---
Date: Wed, 14 Nov 2001 23:20:57 -0500
From: "Paul Elliott" <pelliott_at_rcn.com>
Subject: stereo survey


Seth:

Head Unit & matching cd changer: Kenwood Excelon Speakers: Polk ( 5.25" mid woofs in stock kickpanel locations; in door tweets)

Subs:            JL Audio stealthboxes
Amp:        Kenwood Excelon 4 X 75Wrms

Total system was about $1500 at most. I love it for all types of music from classical to rock to trance (I have very eclectic taste!) I think this is a price sweet spot. You virtually have to pay near this to get a decent system and replace the stock bummers...All stock components need to go, and this is what it minimally costs to replace them. Anyway, here's a datapoint for you. Write if you have any questions.
---
Paul Elliott
'99 White M3; < 35K miles; Dinan stage II sc kit; Rotex pads;X-Brace; Stygar SS and Clutch Stop; Sound by Polk, Excelon, JLAudio
---
Date: Wed, 14 Nov 2001 23:19:13 -0800
From: Andy Radin <fourfa_at_mindspring.com>
Subject: re: stereo survey


Brand and model: Dynaudio 240mkII (7" 2-way component set)

Installation details: both 7" woofer and 1" tweeter in stock locations. This required trimming sheet metal in the kicks, some custom work with the drill, and sanding the edges on the door panel a bit as the tweeter was a very tight fit.

Strengths: very very detailed, smooth, pleasant, and warm highs, good bass extension, extremely high power handling. When still or parked, the bass imaging is fantastic. The acoustic bass on Miles Davis "Kind of Blue" emanates from deep inside the climate control module. With no sub, timpani sound OK in classical, and you can feel the kick drum pretty well in rock music. These are rated down to 55 Hz, and I found myself crossing my subs (twin Kicker F10c free-air subs on the rear deck) over at 60-65 Hz for the brief time before my amp self destructed. another story...

Weaknesses: Cost is high, unless like me you watch eBay for a year to collect a nice used set. Mine were half price, and I've seen the same model go for $325 used after I bought mine. [They're durable (1000W peak rating) so I worry less about used condition than with other speakers.] This isn't so much a critique of the speakers, but when driving at highway speeds, everything in the midbass is swamped a bit. The crossovers are set up for a near-coaxial mounting, and the stock-position tweeters end up a good 5-8 dB too loud in use even on the attenuated position. Sounds great when parked though. When I get my amp back from a/d/s/ I'm going to ditch the Dynaudio crossovers and run the 7"s at about twice the power of the tweeters; I expect that to deal with it except being too boomy when parked.

Brand and model: a/d/s 830X amp

Installation details: left side trunk on custom MDF board Strengths: fantastic crossovers, best I've ever seen. clean power.

Weaknesses: not available any more (ebay...) Blew up on me, a/d/s/ has it now for repair.

Brand and model: Nakamichi CD45Z CD player Strengths: smooth 20-bit DAC, orange illumination, rotary knob, lots of outputs, analog aux input for tape or MP3

Weaknesses: fussy buttons, non fading illumination
---
Date: Thu, 15 Nov 2001 09:24:21 -0600
From: Vince Throckmorton <vince_at_rjthrockmorton.com>
Subject: Re:Stereo Survey


Seth,

Infinity Kappa 50.3cs Installation is straight forward in the stock kick panel but the door requires some modification, hot glue the Infinity to the factory mount which destroys the factory tweeter, wheen you sell the buyer gets the Infinity. Sound is decent and open, not as harsh as an MB Quart, but not a warm as the Focal.

Focal 130K, no mods needed for factory locations in kick panel and door, simply the most musical component set I've heard PERIOD, these make compressed FM stations sound good, you hear things on familiar CD's that you never did before. They are pricey but will outperform most anything I've heard regardless of price.

Vince
---
Date: Thu, 15 Nov 2001 12:00:56 -0600
From: "David Morad" <Dogdave_at_msn.com>
Subject: Re:stereo survey


My stereo set-up is as follows:

Head Unit - Rockford RFX 8220

        Pro: Does everything I need
        Con: Some LED don't always light up when cold out ?

Equalizer: Audio Control EQL
Pro: Able to dial in system, tweak fine points
Amplifier: Rockford Punch 400.4

        Pro: Bulletproof, Built in X-over pretty good.
        Would have preferred PPI but no built in X-over and not want to

get to deep in
Front Speakers: MB Quart PSD 316
6.5 woofer - kick panel, 4 mid-range - stock door location, 1 tweeter - stock door location

        Pro: Excellent Soundstage, easy to tweak, invisible center stag
        Con: Tweeters can be a bit bright - EQL comes in handy

Subs: JL Stealth Box
---
Date: Thu, 15 Nov 2001 10:34:00 -0800 (PST)
From: Chester Wong <chester_p_wong_at_yahoo.com>
Subject: RE: Stereo survey


Head unit: Nak MB-75
Comments: Good sound quality, faceplate feels a bit cheapish (when you press buttons, you hear plastic creaks and stuff), on the expensive side. I'd go with a MP3 head unit nowadays

Front speakers: a/d/s/ 325.is2
Comments: Good sound quality, warm tweeters, not harsh to make your ears bleed like MBQuarts

Rear speakers: no rear fill...JL Audio stealthboxes. Good bass response. Not boomy. On the expensive side. Adapter plates can be made for far less.

Amp: a/d/s/ 840.2 Good, clean, powerful amp.

After all was said and done and I spent $1500, the whole system sounds good. But the funny thing is after I did it all, I rarely use it. My other audio components like the AA gen III exhaust usually provide miles and miles worth of tunes =)

Chester
---
Date: Thu, 15 Nov 2001 12:43:56 -0800
From: "Jay Miller" <jjmiller6_at_hotmail.com>
Subject: Re: Stero Survey


Brand and model: Stock HK Mids and tweeters in the front, Pioneer Rears, JBL Twin 10s with custom, removeable encloser in trunk, Pioneer DEH P8200 Head unit+remote,
Pioneer 12 Disc CD changer (mounted to roof of trunk)

Installation details: Mounted Alpine V12 amp to rear of encloser Strengths: Head unit enables me to sub amp. Encloser takes up 1/3 trunk space.

Weaknesses: Different levels needed for different music. Minor vibration rattles I had to find and sort out around trunk deck and license plate.

Jay
'95 M3
---
Date: Thu, 15 Nov 2001 16:29:21 -0500
From: "Seth Thomas" <porsche993_at_mindspring.com>
Subject: RE: [E36M3] Re: Stereo Survey


Here is the setup in my 1996 M3:

Head Unit: Sony Mobile ES CDX-C90. This is the best headunit I have ever had short of my old McIntosh. Nice display with great sound quality. Even the radio sounds like a CD with this one.

Amplifier: McIntosh __-440. Had this amp for the last 4 years and cannot part with it. Very clean and accurate with a lot of power. But it is very efficient. 50W x 4 and 100W x 2. Built in crossover.

Front Speakers: JL Audio separates. I don't know the details of them as I hate them, they came with the car. Too bright and not enough midbass for me. Can't wait to get rid of them. Anybody want to buy them for cheap. Anybody have something else they want to sell

Rear: I don't know but they aren't stock.

Subs: Image Dynamics IDQ-10DVC I love these subs. Very accurate and not real boomy. The car had JL Audio 10W3s in it when I bought it. To me they were way to boomy and did not hit that low. Replaced with these and it is night and day difference.

This setup will change in the near future with a different front stage and a different sub setup in the trunk. If anybody has some advice on the speakers I need for the front.

My LTW is a little bit different setup:

Head Unit: Nakamichi MB-100. Nice but not as nice as the Sony. It is about to be for sale if anyone wants it.

Amplifier: Xtant 3150. 3 channel driving the fronts and the sub. Nice clean amp that is mounted in the spare tire well. Fits perfect. Like the ability of the plug in modules.

EQ: PPI DEQ-230. 1/3 octave eq that lets me make the fine adjustments

Fronts: MB Quart Q-series 6.5" components. These are nice. I have them mounted in with the tweets in the kick panels behind the factory grilles. Fit nicely and add a very accurate front stage.

Rears: None

Sub: Same as above but one and that is all I need.

Now for my E30 M3:

Same as the LTW but it has the following differences:

Head Unit: Sony Mobile ES CDXC910
Front: Image Dynamics 5.25" components in the kick panels. No EQ

Seth Thomas
www.m3ltw.com <http://www.m3ltw.com>

Unofficial Homepages: [Home] [E12] [E24] [E28] [E30] [E34] [E36] [Z3] [E39] [E46] [X5/E53] [ALL] [ Help ]