Home
E12
E24
E28
E30
E34
E36
Z3
E39
E46
X5/E53
ALL
Ron Stygar
Carl Buckland
Dale Beuning
Forums
Help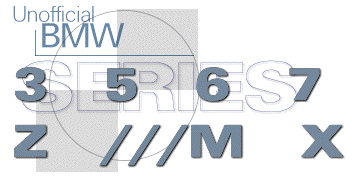 ---
---
From digest.v7.n1362 Sun Mar 22 20:26:48 1998
From: "Jared N. Landrum" <landrum_at_ft-smith.dowell.slb.com>
Date: Sun, 22 Mar 1998 14:12:31 -0600
Subject: <E36> Subwoofers

You wrote:
>From: Rishi <rxb2138_at_omega.uta.edu>
>Subject: <misc>REPLY-Subwoofers in a 328
>Date: Sun, 22 Mar 1998 10:55:16 -0600 (CST)
>
>Suggestion:
>
>In order to get the sound inside the cabin of the car you basically have
>two options. You can either cut a hole in the metal plate behind the rear
>seat and port it through the armrest. I am assuming that you do not have
>the ski hole cut out. Your second option is to remove the rear speakers
>from the rear deck and use the JL Audio flexports to port from the
>enclosure to the rear deck. Leave the grills intact on the reear deck so
>that the port will not show. I recommend this approach rather than the
>first becuase rear fill does not matter too much and also you will not
>have done any sort of cutting. good luck....
>
>rishi
>'96 328i w/ sport pkg.
I've been studying this problem myself, as I am planning on upgrading my sound system. I sure don't want to sacrifice any trunk space or the utility of my fold-down rear seat.
Has anyone checked out the new "Stealthbox" that JL Audio has come out with for the E36? This is a brand new product that they just added to their web site. Check it out at:
<http://stealthbox.jlaudio.com/bmw3series.html>
If anyone has any first hand experience with this product or any other good ideas, let me know.
Jared Landrum BMW CCA #152141
1996 ///M3 - Arctic Silver/Mulberry
Fort Smith, Arkansas
Unofficial Homepages: [Home] [E12] [E24] [E28] [E30] [E34] [E36] [Z3] [E39] [E46] [X5/E53] [ALL] [ Help ]