Home
E12
E24
E28
E30
E34
E36
Z3
E39
E46
X5/E53
ALL
Ron Stygar
Carl Buckland
Dale Beuning
Forums
Help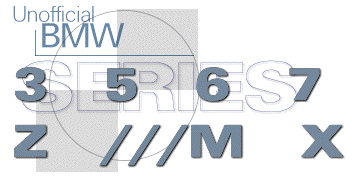 ---
---
From: RonStygar_at_aol.com
Date: Sun, 14 Apr 1996 01:28:53 -0400
Subject: HARMON KARDON STEREO OPTION $675.00

Talked with Neal House from Harmon Motive who designed the system. (317-342-5551 ext 350) His system is looking for high level unbalanced inputs. The 4 speaker outputs from any head unit. That means, any available head unit with 4 speaker output will drive the Harmon Kardon amp speaker system.

So now you can install (for example) a SONY single CD head unit with a SONY trunk mounted cd changer & retain the stock Harmon system. This lets you play single CD's up front & shuffle 10 Disks in the trunk. I'm told the BMW trunk changer does not allow shuffle play.

When I receive my 328is,( May 96) I plan to purchase a head unit (CD radio) & check this out. The BMW ALPINE radio is married to the rear ALPINE changer via what they call the I bus. This makes the system unique.

Harmon Kardon which owns JBL & Harmon Motive implies that a Harmon Kardon system is used in BMW. I assumed the speakers might be made by JBL. In fact, according to Neal House the entire amplifier-equalizer-speaker system is made by Harmon Motive. Neal claims that this is the best system they have done. Harmon Motive also does Ford etc. My experience is that a front mounted CD player is the way to go. A rear changer will be nice for dedicated stuff.

All the above is not supported by anything you can take to the bank. Will share my experiences.
---
Unofficial Homepages: [Home] [E12] [E24] [E28] [E30] [E34] [E36] [Z3] [E39] [E46] [X5/E53] [ALL] [ Help ]