Home
E12
E24
E28
E30
E34
E36
Z3
E39
E46
X5/E53
ALL
Ron Stygar
Carl Buckland
Dale Beuning
Forums
Help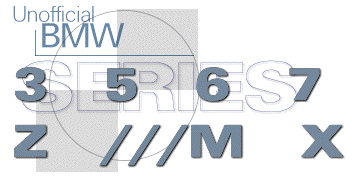 ---
---
From digest.v4.n796 Tue Jul 2 11:28:06 1996
From: Dave Skirzenski <skirz_at_usair.com>
Date: 2 Jul 1996 14:14:02 EDT
Subject: <E36> CD Player Success (1992 325i)

To: BMW List Server <bmw-digest_at_lists.balltown.cma.com>
FROM: David Skirzenski PHONE: 744-4872 ID: SKIRZ Subject: <E36> CD Player Success (1992 325i)
Hello,
With the help of some list-mates, I got the following 6-disk player to work perfectly in my 1992 325i.
Head Unit: Pressing PROG and - displays "ALPINE2" Player: Pioneer CDX-M30 ($299 delivered from S.B.H Enterprises,
800-451-5851). New, full warrenty. Adaptor: Peripheral Electronics, Inc, BMWPIO Adaptor for '92-'94.
($30 from local shop, or call Peripheral at 813-572-9255) Install: Car prewired. Power cable behind panel near passenger

           rear speaker.  Data cable in passenger rear tail light              
           cover.  Didn't need power wire on Adaptor.  Just plug               
           and play.  No need to remove or touch head unit.                    
Comments:  All head unit functions work (select disk, skip track,              
           fast forward, scan, random, last position memory when               
           car is turned off, etc).  Has never skipped, even over              
           big bumps and aggressive driving.  A bit slow between disks         
           though (about 10 seconds to switch and start 1st track).            

Good luck. Dave
---
Unofficial Homepages: [Home] [E12] [E24] [E28] [E30] [E34] [E36] [Z3] [E39] [E46] [X5/E53] [ALL] [ Help ]