Home
E12
E24
E28
E30
E34
E36
Z3
E39
E46
X5/E53
ALL
Ron Stygar
Carl Buckland
Dale Beuning
Forums
Help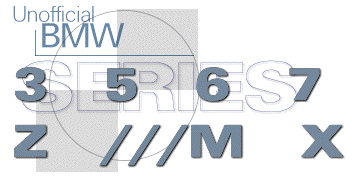 ---
From: RonStygar_at_aol.com
Date: Thu, 16 May 1996 00:04:33 -0400
Subject: 96 328IS COUPE CD HEAD UNIT & SHUFFLE CHANGER


Having a SONY CD head unit in my 86 325es for several years, I naturally wanted the same in my 96 328is coupe.

Neal House, the designer of the Harmon Kardon option, claimed a Blaupunkt CD head unit was available from Europe non-discountable for ~ $800.00. This unit would not control a CD changer. The Alpine CD changer, which I'm told by Alpine, is married to the Alpine cassette changer will not allow shuffle play.

David Lau offered the following: Actually, the stock Alpine changer used for 96+ E36 models will do shuffle play when connected to the stock headunit. This undocumented feature can be accessed by holding down the SCAN button while playing a cd. Maintain pressure on the button about 3 seconds and RND will appear on the display indicating random play mode. The unit will randomly select a track from all cd's in the magazine.
---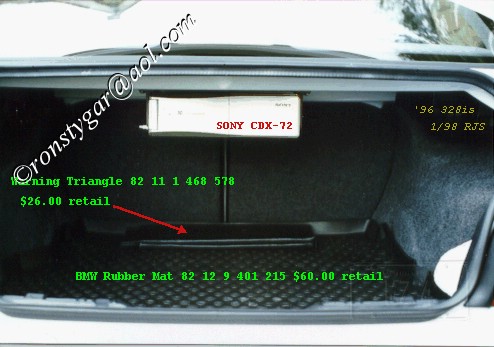 ---
Neal House claimed the Harmon Kardon system can be driven by any head units speaker outputs. Based on this I purchased a SONY CDX610 CD head unit & CDx72 changer from Crutchfield, USA 1-800-955-3000.
Crutchfield supplied the adapters to match the 96 BMW harness. They claimed I also needed the power match adapter part#166pwrmtch. (not true). The 600 ohm balanced input of the Harmon system (not referenced to ground) makes this (I'm told) unneccessary.
Last night I installed the above. With some effort, everthing worked out fine. (Crutchfield supplied the data sheet assuming the power match adapter was necessary). They did not include the wiring sheet for the BMW adapter. The SONY changer is larger than the Alpine unit (10CD's). Based on this, I plan to mount the changer under the rear shelf.
U Grey Poupon, SOCRAPS & Really! people mount it were U want to. For more detail, let me know.
Unofficial Homepages: [Home] [E12] [E24] [E28] [E30] [E34] [E36] [Z3] [E39] [E46] [X5/E53] [ALL] [ Help ]