Home
E12
E24
E28
E30
E34
E36
Z3
E39
E46
X5/E53
ALL
Ron Stygar
Carl Buckland
Dale Beuning
Forums
Help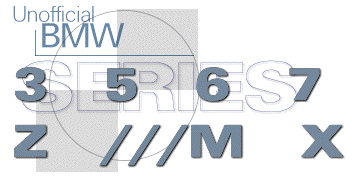 ---
From digest.v4.n771 Tue Jun 25 19:45:45 1996
From: Jeff Tarr <jtarr_at_panix.com>
Date: Tue, 25 Jun 1996 21:22:13 -0400 (EDT)
Subject: Re: E36 Superchargers


Hi Folks:

I thought I'd jump in on this E36 M3 supercharger thread since I just got one from Turner Motorsports...

> Previously, Charles Quarton <chazq_at_ix.netcom.com> stated:

> The Turner unit uses higher fuel pressure to achieve a higher fuel
> injection. This technology lacks the precision of the higher capacity
> injector with electronic control. It may well be that the less
> sophisticated design of Turner takes less time to install but it is still a
> major job.

This is not true. The Turner unit does similar things as Dinan: relocates the cruise control and filter canister, new drive pulley for the blower, the fan shroud is cut away to clear the more forward fan location, new higher capacity fuel injectors, and new chip. The Turner unit does not require the added electronic unit to measure the air and injectors as the Dinan unit does. (My own personal understanding is because Turner's unit has a more developed chip which can handle everything.) Additionally, Turner's unit includes a larger air mass meter which is also handled properly by the chip (you can't run a larger air mass meter on a regular chip.)

Having driven the car a thousand miles over the past few days I can say that Turner's unit is excellent for all around driving. Driving in the city is simple - the power delivery is totally smooth. On the highway things are equally smooth. However... when you go to pass someone and the tach hits 4500 or so the power gain is phenomenal and the speed gets up there real quick! The first few passes I made after picking up the car were unreal. Now that I'm getting used to it I can't believe how slow the car used to be!

> I understand that the Turner unit is very fast too but it has drivability
> issues. The design goal was power with less emphasis on the "without
> sacrifice" factor. The unit does not come with a warranty and the
> reliability is for you to test.

Having spoken to Turner about this, as well as ERT (the people who developed the kit), this is defintely not true. Their kit was designed for the driver who does everything from city to country to track. There is a one year warranty.

> My opinions: if you want performance and reliability choose Dinan. If you
> want to spend less and test a potential hand grenade choose Turner.

My opinion (since you asked! :) ): Both companies sell great products. Turner Motorsports tests all of their products on the street and on the track. At any time you can call up Will Turner himself and ask him anything you need to know. Whenever Will is at the track people are always asking him for help with repairs and upgrades - everyone in the north east agrees he knows what he is talking about. His supercharger kit costs less than Dinan's and gives about the same power (I have not seen any official Dyno results for Dinan's. My car put out 350 HP on the dyno (and I've got the print out to prove it!)).

One last note: Turner's supercharger kit is black. When installed it looks factory! The picture's I've seen of Dinan's kit show a silver blower which stands out.
--Jeff
-- Jeff Tarr jtarr_at_panix.com
From digest.v4.n770 Tue Jun 25 17:44:51 1996
From: Charles Quarton <chazq_at_ix.netcom.com>
Date: Tue, 25 Jun 1996 15:14:03 -0700
Subject: Re: E36 Superchargers


>From: Armand_Aquino_at_mc.xerox.com (Aquino,Armand)

> throttle body and exhaust. They [Dinan] claim installation just for the
> supercharger to be 20 hours, while Turner claims about 6.5 hours.
> Seeing the installation myself, I would tend to believe Turner.

I think that the installation time for the Dinan unit is a fair time for a skilled installer. More is involved in the installation of the Dinan than just "bolting on" the supercharger. The Dinan installation relocates the cruise control and a filter canister from the left front of the engine compartment to the empty battery mount in the right rear. The radiator is removed to install the drive pulley and a portion of the fan shroud is cut away to clear the more forward fan location. New higher capacity fuel injectors are installed with the injection dwell controlled by the chip. An electronic unit is installed to translate the new fuel injection characteristics for the O2 sensors etc. Some fabrication is required to route the air intake for the supercharger downward to receive air from the lower part of the air dam.

The Turner unit uses higher fuel pressure to achieve a higher fuel injection. This technology lacks the precision of the higher capacity injector with electronic control. It may well be that the less sophisticated design of Turner takes less time to install but it is still a major job.

The Dinan unit is engineered to have excellent drivability characteristics and reliability for street use. Their motto is "performance without sacrifice". The unit went through extensive testing and it has a 2 year unlimited milage warranty. Dinan's view is that engineering for street use includes track schools and hooray for that. :)

My experience with the Dinan M3 supercharger, basically the same unit as the 325, confirms the excellent drivability. In normal street use there is no change from stock. However, when you add lots of throttle and the revs are above 3500 it is a rocket. The dyno results, both butt and data curves, show large torque gains from 3000 to red line. The unit is tuned to run on 92 octane gas (highest available for the street in CA) with no pre-detonation. I have never experienced any pre-detonation with the 92 octane CA fuel.

I understand that the Turner unit is very fast too but it has drivability issues. The design goal was power with less emphasis on the "without sacrifice" factor. The unit does not come with a warranty and the reliability is for you to test.

For me, the Dinan unit was well worth the money. Before I purchased, I talked with several Bay area BMW owners running Dinan turbochargers, this was the first supercharger unit. The report was unanimous that there were no reliability problems. Adding forced air induction is a major step that can produce huge gains. It can also blow a very expensive motor if it is not done right. There is no way I would take the plunge with a unit of questionable reliability.

My opinions: if you want performance and reliability choose Dinan. If you want to spend less and test a potential hand grenade choose Turner.

The Dinan package has to be stout before I would risk letting a doofus like Rich B. run a test drive at our M3 gathering :) That man is an animal that loves full throttle to the red line. Of course he was never observed exceeding the posted speed limit, posted in Montana that is.

By the way, the highest placed BMW in the One Lap of America was a private entry M3 with a Dinan supercharger. The motor performed with no problems in an event that is hard on cars, basically race at the track and then rally stage to the next track. The finish was particularly good when you consider that this was a private entry competing against factory sponsored machines.

Chuck Quarton
'95 M3 Dinan suspension and supercharger

Unofficial Homepages: [Home] [E12] [E24] [E28] [E30] [E34] [E36] [Z3] [E39] [E46] [X5/E53] [ALL] [ Help ]