Home
E12
E24
E28
E30
E34
E36
Z3
E39
E46
X5/E53
ALL
Ron Stygar
Carl Buckland
Dale Beuning
Forums
Help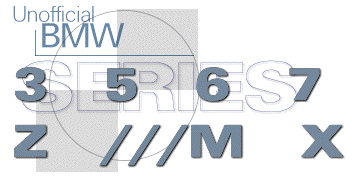 ---
From digest.v7.n875 Sun Jan 4 18:19:57 1998
From: Duane Collie <trapdnce_at_erols.com>
Date: Sun, 04 Jan 1998 13:18:57 -0500
Subject: Re: bmw-digest V7 #872


>From: Peter Fanning <pfanning_at_pfanning.seanet.com>
>Date: Sat, 03 Jan 1998 10:56:23 -0800
>Subject: '98 M3 mods
>
> What are the most effective mods for a '98 M3? Best bang for the buck? I
>noticed this post and am wondering if it's a good place to start.
>"The most restrictive part of an M3's airstream-- The HFM. 24 horses for $900
>from Turner."
>
>------------------------------
>
>From: "Andy Andreasen" <andreasa_at_hic.net>
>Date: Sat, 3 Jan 1998 18:06:11 -0600
>Subject: WTB E36 M3 Coilover Suspension

>I am very close to allowing myself to spend the large sum of cash it will
>take to upgrade the suspension on my LTW. I only know of 2 companies that
>are making a coilover setup for the E36 M3, Eibach and H&R. Any other out
>there??

Peter:

Best upgrade for your '98 M3 is to improve thyself! Unless you came outta a similar car, then I can just about guarantee you can't get 95% outta this car the first year you own it. Spend your money on a Driver's School first. Really. Now I'm assuming you are interesting in REALLY driving the car. If you are just a street crusier and wanna drag race, you should've bought a Z28, but since you didn't don't try to hot rod your engine at this point. OBD2 is gonna keep you from doing much with it at this point short of supercharging (and the subsequent reliabilty problems that brings). That Euro HFM system only works on OBD1 cars ('95 M3's) right now. Best drag racer upgrade? Change your rear end gears in the diff to 3.45 or better with a 40% LSD (stock is 25%). Cost you about $ 1,300.00.

Now, after you do your Driver's Schools (if you like the track) here's my list of *BEST* M3 upgrades in the order I would do them in:
Set of extra wheels (BBS RC or Fikses) with BFG R1's on them. HUGE difference. # 1 Upgrade.
Proper track pads with a spare set of 2-piece Euro Rotors for when you warp your stock ones.
Schroth Ralleye 4 Harnesses to keep you in the seat. (3" belts if you plan to install a bar)
Install the X-Brace off the Cabriolet.
Then we take another leap beyond that to:
Aftermarket shocks and Springs ( I prefer Bilstein Sports and H&Rs)
Upgraded Sway Bars (bigger / stiffer)
Reverse your strut mounting plates for more negative camber
Zero toe alignment front and rear with you sitting in the seat, no other weight.
Still got money left?
AC Schnitzer Short Shift Kit
TMS Lightened Flywheel
Notice we've not even touched the engine <grin>, yet you are now doing 5 to 6 second better lap times than a stock M3. The car has enough power to scare the crap outta you on the track, just as it is. Get a Jim Conforti Chip for it when they become available.
---
Andy,
TC Kline has some VERY trick custom made Twin Tube Konis / Coilovers that are the hot licks right now. Be sitting down when you call for the price, though......KAAA-CHING! $$$$$$$$$
---
Duane Collie
RM3DR1 UUC
National Capital Chapter
P.S. HEY! You guys lay offa my Rolling Rock ! Yeah, yeah, so it's not as thick as 10w-40, I gotta keep LIGHT on my feet in the UUC garage......... From digest.v7.n874 Sun Jan 4 13:12:33 1998
From: Bob Stommel <rstommel_at_iquest.net>
Date: Sun, 04 Jan 1998 09:47:12
Subject: RE: 95 M3 Performance upgrades

>My 95 M3 has 18k miles on it. I installed a Dinan Chip and airbox long
>ago. I am considering additional performance upgrades--nothing too
>radical (ie supercharging or lightweight cams), but was thinking about big
>bore throttle body and/or exhaust system. I came accross a posting about
>how the intake bottleneck is actually the Heated Film airMass sensor (HFM).
> Is that really the case? If so, would it be worthwhile to put on a Euro
>HFM (I think TMS has them for $396 +$150 for an adaptor). Why hasn't Dinan
>addressed this problem if it is indeed the bottleneck. Would the TMS HFM
>work with my Dinan Chip and airbox? Supposedly the J C chip is designed to
>do so, but I would prefer not to spring for another chip if unnecessary.
>
>Is a cat back exhaust system such as Dinan's reworked BMW system, a Borla
>system, a Supersprint system wothwhile/cost effective. Which is best?
>
>Which of these upgrades,if any, is most cost effective? If none are really
>worthwhile, I would prefer to do nothing additional. (I have extended
>warrenty and would not to do anything that would very likely invalidate
>it).
The most cost-effective performance upgrade is really the suspension, not the engine. As usual, BMW softened the M3 suspension for the U.S. market. Best aftermarket combination so far (without going to coilovers) is H&R springs, Koni or Bilstein shocks, and Racing Dynamics adjustable swaybars (the real RD bars made in Italy).
The most cost-effective modification for horsepower is the Euro HFM, JC chip (sold by Turner), and shielded K&N cylindrical filter. (Yes, you do have to get a chip to specifically match the Euro HFM). This setup will get you about 265 HP. A "big bore" throttle body will only get you another 1-2 HP, if even that. The Supersprint exhaust is the only one that flows more than the stock exhuast, and even at that, you'll only gain 2-3 HP. The only real advantages to the Supersprint are the weight savings and the fact that it's stainless steel.
Bob "Saabs Suck" Stommel
Hoosier Chapter
Indianapolis
Unofficial Homepages: [Home] [E12] [E24] [E28] [E30] [E34] [E36] [Z3] [E39] [E46] [X5/E53] [ALL] [ Help ]