Home
E12
E24
E28
E30
E34
E36
Z3
E39
E46
X5/E53
ALL
Ron Stygar
Carl Buckland
Dale Beuning
Forums
Help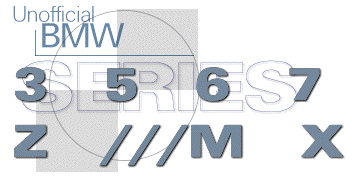 ---
From digest.v7.n1240 Wed Mar 4 15:08:09 1998
From: "Gener" <agspeed_at_cybernex.net>
Date: Wed, 4 Mar 1998 11:56:55 -0500
Subject: Turbocharged M3


This is a multi-part message in MIME format.

> BUT: When you're finally ready for more power, the choice between
> supercharger and turbocharger is easily made. The supercharger will
> give greater reliability, and, if set up properly, just as much power as
> a turbo. No other modifications will match the supercharger in the
> overall change in character it gives the M3.

To make it short and sweet, here are some of the reasons why I went to a turbocharged set up as opposed to a supercharged set up for my 95 M3.
A turbocharger (exhaust driven) does not run off of belts/chains etc like a supercharger does, which essentially is robbing your engine of power because of the increased load. I'm sure many of you've have felt this effect when you push the little green snowflake button on your climate control panel.
A supercharger's boost is a function of your engine's RPM limitation, resulting in a near linear power curve. A supercharged M3 that is configured to run 7psi (through belts and pulleys) peaks at lets say 350hp at 7psi near redline. A same turbocharged M3 set to run at 7psi (through a wastegate control) is easily able to generate the same full boost of 7psi at 2200RPM as opposed to 6200+RPM's as seen on a supercharged M3.
Because the turbocharger is not RPM dependent and can generate full boost early on, the area under the curve (Torque/HP vs RPM) is greater as compared to a supercharged vehicle and ultimately results in much more usable power THROUGHOUT the entire RPM range.
Yes, people can argue the point that "lag" is associated with turbo's but that's something that is hardly noticed and can be easily corrected but that opens an entirely new can of worms.
A turbocharged vehicle is much more flexible in the sense that you can dial in any amount of boost you want the turbo to force feed, simply by controlling the wastegate. I have an electronic valve controller on my dash that can adjust boost levels through a push of a button to produce anywhere from 270hp-370hp depending on the power I need at hand. It simply monitors when the wastegate should open and how long it stays closed, essentially giving me adjustable power.
In my honest opinion, a turbocharged vehicle: easily wins the sheer power battle, provides much more usable power throughout the entire RPM range, very adjustable, produces a very addictive jet turbine sound :), and did I mention it pushes like a bat out of hell from 2000 RPM+
I would highly recommend the Active Autowerke kit as they have done a great job in engineering this kit for the E36 cars.
Thanks for the bandwidth and I apologize if this posted in a MIME format although I already de-selected the MIME setting.
Gene
'95 ///M3 Turbo'd and lovin' it!
I welcome any comments or questions.
Supercharged owners: please no whiners "no pun intended"
<!DOCTYPE HTML PUBLIC "-//W3C//DTD W3 HTML//EN"> <HTML>
<HEAD>
<META content=3Dtext/html;charset=3Diso-8859-1 = http-equiv=3DContent-Type>
<META content=3D'"MSHTML 4.72.2106.6"' name=3DGENERATOR> </HEAD>
<BODY bgColor=3D#ffffff>
<DIV><FONT face=3D"Comic Sans MS" size=3D2>&gt; BUT: When you're finally = ready for=20
more power, the choice between<BR>&gt; supercharger and turbocharger is = easily=20
made.&nbsp; The supercharger will<BR>&gt; give greater reliability, and, = if set=20
up properly, just as much power as<BR>&gt; a turbo.&nbsp; No other = modifications=20
will match the supercharger in the<BR>&gt; overall change in character = it gives=20
the M3.</FONT></DIV>
<DIV><FONT face=3D"Comic Sans MS" size=3D2></FONT>&nbsp;</DIV> <DIV><FONT color=3D#000000 face=3D"Comic Sans MS" size=3D2>To make it = short and sweet,=20
here are some of the reasons why I went to a turbocharged set up as = opposed to a=20
supercharged set up for my 95 M3.<FONT = color=3D#000000>&nbsp;</FONT></FONT></DIV> <DIV><FONT color=3D#000000 face=3D"Comic Sans MS" = size=3D2></FONT>&nbsp;</DIV>
<DIV><FONT face=3D"Comic Sans MS" size=3D2>* A turbocharger (exhaust = driven) does=20
not run off of belts/chains etc like a supercharger does, which = essentially is=20
robbing your engine of power because of the increased load.&nbsp; I'm = sure many=20
of you've have felt this effect when you push the little green snowflake = button=20
on your climate control panel.&nbsp; </FONT></DIV> <DIV><FONT face=3D"Comic Sans MS" size=3D2></FONT>&nbsp;</DIV> <DIV><FONT face=3D"Comic Sans MS" size=3D2>* A supercharger's boost is a = function of=20
your engine's RPM limitation, resulting in a near linear power=20 curve.</FONT></DIV>
<DIV><FONT face=3D"Comic Sans MS" size=3D2>A supercharged M3 that is = configured to=20
run 7psi (through belts and pulleys) peaks at lets say 350hp at 7psi = near=20
redline.&nbsp;&nbsp; A same turbocharged M3 set to run at&nbsp; 7psi = (through a=20
wastegate control) is easily able to generate the same full boost of = 7psi at=20
2200RPM as opposed to 6200+RPM's as seen on a supercharged = M3.</FONT></DIV>
<DIV><FONT face=3D"Comic Sans MS" size=3D2></FONT>&nbsp;</DIV> <DIV><FONT face=3D"Comic Sans MS" size=3D2>Because the turbocharger is = not RPM=20
dependent and can generate full boost early on, the area under the curve =
(Torque/HP vs RPM) is greater as compared to a supercharged vehicle and=20 ultimately results in much more usable power THROUGHOUT the entire RPM=20 range.</FONT></DIV>
<DIV><FONT face=3D"Comic Sans MS" size=3D2></FONT><FONT color=3D#000000=20 face=3D"Comic Sans MS" size=3D2>Yes, people can argue the point that = &quot;lag&quot;=20
is associated with turbo's but that's something that is hardly noticed = and can=20
be easily corrected but that opens an entirely new can of=20 worms.&nbsp;&nbsp;&nbsp; </FONT></DIV>
<DIV><FONT color=3D#000000 face=3D"Comic Sans MS" = size=3D2></FONT>&nbsp;</DIV>
<DIV><FONT color=3D#000000 face=3D"Comic Sans MS" size=3D2>* A = turbocharged vehicle is=20
much more flexible in the sense that you can dial in any amount of boost = you=20
want the turbo to force feed, simply by controlling the wastegate.&nbsp; = I have=20
an electronic valve controller on my dash that can adjust boost levels = through a=20
push of a button to produce anywhere from 270hp-370hp depending on the = power I=20
need at hand.&nbsp; It simply monitors when the wastegate should open = and how=20
long it stays closed, essentially giving me adjustable = power.</FONT></DIV>
<DIV><FONT color=3D#000000 face=3D"Comic Sans MS" = size=3D2></FONT>&nbsp;</DIV>
<DIV><FONT face=3D"Comic Sans MS" size=3D2>In my honest opinion, a = turbocharged=20
vehicle: easily wins the sheer power battle, provides much more usable = power=20
throughout the entire RPM range, very adjustable, produces a very = addictive jet=20
turbine sound :), and did I mention it pushes like a bat out of hell = from 2000=20
RPM+</FONT></DIV>
<DIV><FONT face=3D"Comic Sans MS" size=3D2></FONT>&nbsp;</DIV> <DIV><FONT face=3D"Comic Sans MS" size=3D2>I would highly recommend the = Active=20
Autowerke kit as they have done a great job in engineering this kit for = the E36=20
cars.&nbsp; </FONT></DIV>
<DIV><FONT face=3D"Comic Sans MS" size=3D2></FONT>&nbsp;</DIV> <DIV><FONT face=3D"Comic Sans MS" size=3D2>Thanks for the bandwidth and = I apologize=20
if this posted in a MIME format although I already de-selected the MIME=20 setting.</FONT></DIV>
<DIV><FONT face=3D"Comic Sans MS" size=3D2></FONT>&nbsp;</DIV> <DIV><FONT face=3D"Comic Sans MS" size=3D2>Gene </FONT></DIV> <DIV><FONT face=3D"Comic Sans MS" size=3D2>'95 ///M3 Turbo'd and lovin'=20 it!</FONT></DIV>
<DIV>&nbsp;</DIV>
<DIV><FONT face=3D"Comic Sans MS" size=3D2>I welcome any comments or=20 questions.</FONT></DIV>
<DIV><FONT face=3D"Comic Sans MS" size=3D2>Supercharged owners: please = no whiners=20
&quot;no pun intended&quot;</FONT></DIV> <DIV>&nbsp;</DIV>
<DIV>&nbsp;</DIV>
<DIV><FONT face=3D"Comic Sans MS" size=3D2></FONT>&nbsp;</DIV> <DIV><FONT face=3D"Comic Sans MS" =
size=3D2></FONT>&nbsp;</DIV></BODY></HTML>
------=_NextPart_000_0099_01BD4764.A0971700--
Unofficial Homepages: [Home] [E12] [E24] [E28] [E30] [E34] [E36] [Z3] [E39] [E46] [X5/E53] [ALL] [ Help ]