Google Search

Search (Google!!)
Search Amazon.com
Home
E12
E24
E28
E30
E34
E36
Z3
E39
E46
X5/E53
ALL
Ron Stygar
Carl Buckland
Dale Beuning
Forums
Help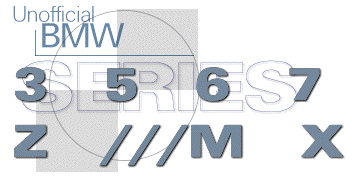 ---
From: Ben Liaw <bliaw_at_vetstar.com>
Date: Fri, 22 May 1998 11:31:34 -0400 (EDT)
Subject: m3 mufflers...don't get that supersprint/dinan/b&b/borla yet...

hey steve;

if you can sit tight, i should have a full stainless (real DTM tips, muffler and pipes) for my m3 in about a week. it has 2-1/4 pipes like the stock exhaust (so not to kill the torque) and is fully polished. the tips, by the way, are not the cheezy supersprint _bent_ DTM tips...real cut and welded (like the brullen on my e30 m3...hee hee hee).

i'm going to dyno my car before and after the install since i want to make sure that there is not degredation in performance. as i already have stock dyno runs recorded, the stock exhaust run will be with the new jim c ecu upgrade, which will also show gains to a stock m3 with just the OBD-II upgrade.

i'm going to weigh each one, since the stock on is supposed to be heavy. best part about it is that the whole cat back exhaust costs less than $400. since i'm providing dyno results to the company, they cut me a break, but if the results are favorable, i'll be able to arrange for a group purchase and you can get yours for around $300! that's right, around $300! geez, with the extra $400 you save over a supersprint you could...
- get the BL/SS upgrade ($60)
- change your tranny fluid to Redline D4 ATF ($15)
- change your diff fluid to Redline 75w-90 ($15)
- x-brace ($110)
- get sparco profi driving gloves ($100)
- pay for one BMW driver school (around $125-$150)
geez, that's a whole lot of stuff you'd be giving away...
regards,
ben liaw
Unofficial Homepages: [Home] [E12] [E24] [E28] [E30] [E34] [E36] [Z3] [E39] [E46] [X5/E53] [ALL] [ Help ]