Google Search

Search (Google!!)
Search Amazon.com
Home
E12
E24
E28
E30
E34
E36
Z3
E39
E46
X5/E53
ALL
Ron Stygar
Carl Buckland
Dale Beuning
Forums
Help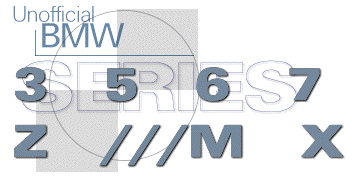 ---
From list-errors.700002333.0.700754162_at_boing.topica.com Thu Jan 6 14:47:44 2000
for <dale_at_unofficialbmw.com>; Thu, 6 Jan 2000 14:47:43 -0800
To: "Suzy's List" <e36m3_at_topica.com>
From: Rob Hatrak <hatrak_at_ix.netcom.com>
Subject: [E36M3] JC Intake - My experience
Date: Thu, 06 Jan 2000 14:47:37 -0800
Reply-To: hatrak_at_ix.netcom.com
charset="iso-8859-1"
Content-Transfer-Encoding: 7bit


Hi gang,

I have had the JC intake in my car for about a week now, and have been loving every minute of it. I have outlined my experience thus far below:
THE CAR
1995 M3 with the following respiratory mods: Euro HFM, enlarged throttle body, 1995 Dinan-modified exhaust, and JC chip (if this applies to the breathing).
SOUND
There are no sounds that come from the kit that don't belong on an M3. Part throttle and cruising give away no secrets as to how this sharked car breathes. Full throttle yields a wonderful baritone shriek. I love it. I video taped a couple high speed runs past a video camera, and the sound would make the DTS people drool.
PERFORMANCE
---
The easiest way to explain the performance is as a loss of weight on the car. The previous discussion about three people getting out of the car is right on the money. The power increase was startling, and must be experienced to be believed. This mod is without doubt the best I have purchased to date.
PACKAGING
When I opened my box, I was treated to the nicest packaging that I have ever seen. Everything was neatly sealed in what looked to be anti-static bags. None of this really matters as far as performance or installation, but it was a pleasure to see the care that went into the kit's assembly. Every single nut and bolt that might be needed was included, as well extremely thorough directions with pictures.
INSTALLATION
Installation took roughly 20-25 minutes, as it really is an easy job. Remove the old Euro airbox, remove the cruise control, clean the chassis underneath, drop the shield in, secure three screws, install the tube, attach the filter, re-attach the cruise control, adjust hood stops, wash hands, burn rubber.

The fit of the shield is out of this world. EVERY nook and cranny of the car was taken into account on the shield, and it fits like a glove because of it. If it wasn't for the headlight, I wouldn't be surprised to see this thing hold water.
COMPARISON TO OTHER INTAKES
My car has run with three other intake kits. The Dinan kit, the euro airbox, and an early ECIS kit. The Conforti intake is the clear winner (by a long shot) using quality, fit & finish, ease of installation & maintenance, and performance as the standards of evaluation. It truly is the only intake of the four my car has seen that made power that I could feel.
CUSTOMER SERVICE
---
As is my usual experience working with Jim and Josh, it was a pleasure. After my install, I called Josh with a few notes about my installation. These notes included the fact that I, in my attempt to install the kit too quickly, damaged my intake tube. Josh not only didn't care that is was my fault, he over-nighted to me (at his expense) a new tube, along with another replacement part for my car that he didn't even originally sell to me. "Just send me the broken tube and the old part, and we'll be square." That, my friends, is customer service.

Thank you Josh & Jim.

Rob
---
Get your favorite topic delivered daily. http://www.topica.com/t/11

Unofficial Homepages: [Home] [E12] [E24] [E28] [E30] [E34] [E36] [Z3] [E39] [E46] [X5/E53] [ALL] [ Help ]