Home
E12
E24
E28
E30
E34
E36
Z3
E39
E46
X5/E53
ALL
Ron Stygar
Carl Buckland
Dale Beuning
Forums
Help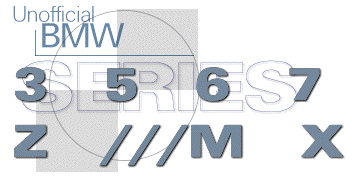 ---
From: BMW_at_comet.net (Bavarian Motor Warehouse)
Date: Wed, 21 Feb 1996 14:21:36 -0500
Subject: 1996 M3


>From an official publication BMW NA. "No reproduction of these materials
is permitted without the prior written consent of BMW of North America, Inc." So please, do not reproduce this.

(quote:...

"1996: An Even More Powerful M3

3.2-Liter Engine
*240 hp, 246 lb.ft. torque
*Significantly quicker 0-60 time (estimated in high 5's), even better low rpm response
*No weight, handling or mileage penalty

Improved Chassis
*Improves suspension geometry for even better grip without sacrificing ride comfort
*New, larger cast alloy sport wheels and tires

Enhanced Exterior
*Revised front air dam, wheel design
*Two new colors:
Estoril Blue (bright strong metallic blue) replaces Avus blue Techno Violet (dark bluish-violet -very elegant) replaces Daytona violet

New Interior Equipment and Colors
*M Cloth revised in black and gray
*New standard leather in Modena Natural (Ferrari-type chamois/tan) *New extended leather interior (available only with Luxury Package) in Magma (natural dark tan)

Other Major New Features
*All Season Traction and limited-slip differential standard, all models. [!!] *Coded Driveaway Protection anti-theft system standard, all models *Automatic Climate Control (similar to 7-series) [....and E36 328, too.?] *New Harman Kardon Premium Sound System (optional)

......"

Remember, please do not reproduce without authorization from BMW NA.

If I toggled-off my signature, I still wouldn't be annon.

Phil Marx  (*=OO=*)                   (804) 293-8269    fax (804) 293-0817
Bavarian Motor Warehouse, Inc.         Check out our Web page: It's not
416 W. Main St.                        perfect yet..... but it's pretty.
.com>
Charlottesville, VA.  22903            http://www.comet.chv.va.us/bav/

Unofficial Homepages: [Home] [E12] [E24] [E28] [E30] [E34] [E36] [Z3] [E39] [E46] [X5/E53] [ALL] [ Help ]