Google Search

Search (Google!!)
Search Amazon.com
Home
E12
E24
E28
E30
E34
E36
Z3
E39
E46
X5/E53
ALL
Ron Stygar
Carl Buckland
Dale Beuning
Forums
Help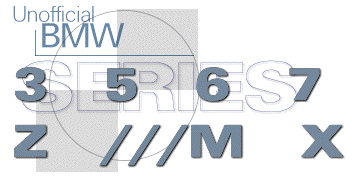 ---
---
From digest.v7.n985 Tue Jan 20 16:56:34 1998
From: tholz_at_etsol.ml.com (Thomas Holz)
Date: Tue, 20 Jan 1998 13:24:53 -0500
Subject: E36 Sunroof Rattle(not) fixed!!

BemrBoy and others,
I thought that I had a sunroof rattle (97 318i), but after some investigation (car parked, sunroof open, tapped with my fingers in various areas in and around the sunroof [also held down the air deflectors]) the rattle appeared to be comming from the sunroof motor assembly. So I removed the sunroof switch, pried open the cover to the sunroof motor in the headliner, and tighted the sunroof motor mounting screws (torx screwdriver required), repleaced everything (making sure that none of the wires could cause a rattle) and the rattle disappeared!
Tom Holz
'97 318i
tholz_at_ml.com
Unofficial Homepages: [Home] [E12] [E24] [E28] [E30] [E34] [E36] [Z3] [E39] [E46] [X5/E53] [ALL] [ Help ]