Google Search

Search (Google!!)
Search Amazon.com
Home
E12
E24
E28
E30
E34
E36
Z3
E39
E46
X5/E53
ALL
Ron Stygar
Carl Buckland
Dale Beuning
Forums
Help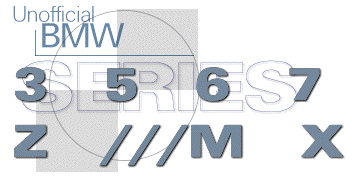 ---
From: RonStygar_at_aol.com
---
From RonStygar_at_aol.com
Date: Thu, 12 Jun 1997 02:52:49 -0400 (EDT)
To: BMW-digest_at_mailgate.wizvax.net, dale_at_unofficialbmw.com
Subject: VDO temperature sender #323092 M12x1.5 torque value
I installed the BMP VDO gauge package in my '96 328is and also plan to do the same in my '97 318tis. The panel for the 318tis will be my own design. The torque value for the oil temperature sending unit is not specified. Myself and other digesters found out that the head of the sender snaps off at ~ 20 ft lb. VDO NA did not have a torque specification. When pressed on this issue they recommended 15 ft lb. and replaced the sender at no charge. Being curious, I sent an e-mail to VDO Australia on 3-5-97. No cigar. I resent the same message 4-10-97. I received a response last week. They referred me to VDO NA. When I explained to them that is where I started, they supplied a contact at VDO Germany. The following is the response from VDO Germany.
<The correct torque value for this Sender is : M12 x 1,5 and the German VDO No. for this Sender is : 323.801/010/003. If you need a customer drawing please send me your fax adress.>
Wow! I resent the original message with my at work FAX number and they responded with a torque specification data sheet applying to many temperature sensors. The torque value for the M12x1.5 sensor is 15 NM = 11 ft lb. or 132 in lb. They also included a customer drawing technical data sheet on the above sensor showing the circuitry and values of resistance for several temperatures. If you want a copy of these, I will send them to you as an attached PCX file. To do this, lacking a scanner, I will FAX it to myself. The torque specification should come out ok. The technical data sheet, which is difficult to read as is, may not. If you want a hard copy of the above send me a SASE with postage for 1 ounce. The technical data sheet annotation is in German. I plan to translate and clean up this sheet. Not sure when I will get to do this.
Unofficial Homepages: [Home] [E12] [E24] [E28] [E30] [E34] [E36] [Z3] [E39] [E46] [X5/E53] [ALL] [ Help ]