Home
E12
E24
E28
E30
E34
E36
Z3
E39
E46
X5/E53
ALL
Ron Stygar
Carl Buckland
Dale Beuning
Forums
Help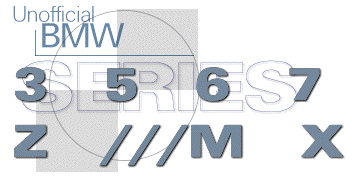 ---
---
From digest.v6.n625 Mon May 5 19:45:40 1997
From: Aaron Lung <alung_at_cisco.com>
Date: Mon, 5 May 1997 13:10:22 -0700
Subject: Re: Valentine V1

Ben Liaw sed:
>I loved my V1 for the 2 weeks that I had it in my '96 M3, but after this
>time period, I determinded that I could not stand the windshield mount,
>having the cord in the way of the radio and OBC, and the hassle of taking
>it down each time I stopped anywhere that was shifty looking an area.
I've semi-permanently mounted both my original Passport (circa 1988) and V-1 in both my cars on the visor immediately next to the rear-view mirror. Power wires are run along the pillar inside/behind the plastic clip-on trim piece. If you do it well enough, your passengers will think it's factory mounted.
Unless you specifically look for it, there's no way you'd see it from the outside unless you bend down and look from the driver's eye-level. The tint bar that runs the length of the windshield hides it even better.
In anycase, it's certainly a hell of a lot less obvious than mounting it dead smack in the middle of the windshield with those cheezy suction cups and wires hanging all over the place :-)
aaron
Unofficial Homepages: [Home] [E12] [E24] [E28] [E30] [E34] [E36] [Z3] [E39] [E46] [X5/E53] [ALL] [ Help ]