Home
E12
E24
E28
E30
E34
E36
Z3
E39
E46
X5/E53
ALL
Ron Stygar
Carl Buckland
Dale Beuning
Forums
Help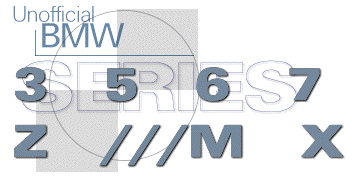 ---
Date: Mon, 22 Jan 2001 16:37:11 -0800
From: "NickG" <nikog_at_mediaone.net>
Subject: Re: [E36M3] rowr

My sunroof made a rattle too. The fix was easy. One of the nuts holding the sunroof panel's brace was loose. The downside is that there is risk of damaging the sunroof headliner panel mechanism. If you want to try and fix it, do it at your own risk. I did, and broke the mechanism :(
First, you'll need to separate the headliner panel from the sunroof panel. To do this, activate the sunroof as if you were going to open it, just so that the rear edge of the sunroof panel drops a little below the roofline (about 1/4").
Now using the palms of your hands, with a swift motion, push the headliner panel rear ward so that it separates from the sunroof panel.
Note: DO NOT OPEN THE SUNROOF PANEL (RETRACTING IT INTO THE ROOF) WHEN THE HEADLINER PANEL IS IN THE REAR MOST POSITION. DOING SO WILL DAMAGE THE LINKAGE OF THE HEADLINER PANEL.
Now that the headliner panel is slid back and out of the way, you'll see a black brace going across the sunroof panel. There are 3 nuts that attach this brace to the panel. Those nuts tend to get loose, and cause the brace to vibrate against the panel, causing the rattling noise. Snug them down to eliminate the rattle.
Now grab the headliner panel and slide it forward, reattaching it to the sunroof panel. Tada, you're done.
Nick
> ok, my stupid sunroof rattle is driving me nuts. Anyone know how to fix
> this? I'm guessing this is going to involve taking the sunroof apart,
> but I have no idea where to start. Does it come off from the top? Or
> do I need to take the entire headliner apart?
>
> -kit, who is annoying and considering welding it closed... ;)
>
> 97 m3
Unofficial Homepages: [Home] [E12] [E24] [E28] [E30] [E34] [E36] [Z3] [E39] [E46] [X5/E53] [ALL] [ Help ]