Google Search

Search (Google!!)
Search Amazon.com
Home
E12
E24
E28
E30
E34
E36
Z3
E39
E46
X5/E53
ALL
Ron Stygar
Carl Buckland
Dale Beuning
Forums
Help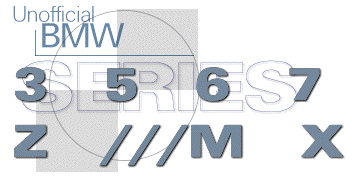 ---
---
From dale_at_unofficialbmw.com Fri Apr 11 20:02:41 1997
From: Dale Beuning <dale_at_unofficialbmw.com>
Subject: Re: <E36 M3> squeaky clutch, warranty service
To: mwendell_at_cais.com (Michael Wendell)
Date: Fri, 11 Apr 1997 20:02:33 -0700 (PDT)
Cc: bmw_at_mailgate.wizvax.net (BMW List), dale_at_unofficialbmw.com ()

My 10/94 production M3 also had the squeaky clutch pedal. When I had the underdash area torn apart 3 months ago installing my a/d/s/ speakers, I just lubed the heck out of the pivot point while working the pedal with my hand (use silicone spray lube) and the squeak is gone!
Dale
> okay, help me get a consensus here.
>
> just brought the M3 (very early build '95) into Fairfax BMW (Northern
> Virginia) for some warranty service, recalls, etc. i was told that the,
> very loud, squeaky clutch pedal was something that they can't fix, it's
> inherent to the car, and that they all do that, even his (i know that he
> does own one).
>
> is this true, do i have to live with it?
--
---

                       |            Dale Beuning           |
                       |       email: dale_at_unofficialbmw.com     |
                       | web: http://www.unofficialbmw.com |
                        -----------------------------------

Unofficial Homepages: [Home] [E12] [E24] [E28] [E30] [E34] [E36] [Z3] [E39] [E46] [X5/E53] [ALL] [ Help ]