Home
E12
E24
E28
E30
E34
E36
Z3
E39
E46
X5/E53
ALL
Ron Stygar
Carl Buckland
Dale Beuning
Forums
Help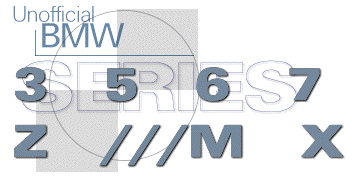 ---
---
From digest.v5.n253 Thu Sep 19 06:02:34 1996
From: "S.J.Metcalfe" <S.J.Metcalfe_at_dl.ac.uk>
Date: Thu, 19 Sep 1996 08:49:02 +0100
Subject: re: E36 door panel removal

Tim Tsai asked how to remove the E36 door panel.
To remove the trim surrounding the door release lever:- Using a small screwdriver or fingernails pull the rear section (the widest part) away from the door by about 2mm. This unlocks the assembly. Then slide it off towards the front of the car.
You'll need a Torx 20 bit to undo the 2 screws under the door pull after you've removed the screw covers.
Now open the door, sit on the floor, put one foot on the door frame, grab hold of the door panel at the bottom and pull like f&*_at_. Lift the trim over the door lock button and unplug the speaker and door mirror control wires (front doors only).
Hope this helps
Stuart Metcalfe email s.j.metcalfe_at_dl.ac.uk Central Laboratory of the Research Councils phone +44 (0)1925 603521 Daresbury Laboratory fax +44 (0)1925 603416 Warrington
Cheshire, England, WA4 4AD. '95 318iS coupe
Unofficial Homepages: [Home] [E12] [E24] [E28] [E30] [E34] [E36] [Z3] [E39] [E46] [X5/E53] [ALL] [ Help ]