Home
E12
E24
E28
E30
E34
E36
Z3
E39
E46
X5/E53
ALL
Ron Stygar
Carl Buckland
Dale Beuning
Forums
Help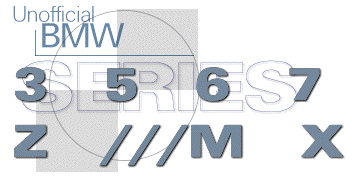 ---
Date: Fri, 5 Mar 1999 01:36:45 -0500
From: Ted Telesky <TTelesky_at_compuserve.com>
Subject: [E36M3] One Touch Sunroof

Alvin,
To my knowledge, there is no factory, under rwarranty, mod to add one touch to your roof. The mod needed to add the one touch roof is the newer motor, new switch and a harness. You would need to buy these new, or used, and install them. However, if your sun roof stopped working under warranty and the motor needed to be replaced, they would use the new motor with switch since the old motor is not made any more - you would get the one touch as part of the warranty replacment.
Old motor 67-61-8-361-374
New motor 67-61-8-362-364
New switch 61-31-8-368-941
New harness 67-61-8-374-976
As mentioned before, this only gives one touch open, not close. Also, does not connect to door key switch for key roll-up. Someone is checking on adding both features and hopes to post a message soon.
Hope this helps.
Ted
>>>>>I took my cavr into Peter Pan BMW today and they can't find anything
about having the one touch sunroof added back into the '95 M3's. Maybe I misunderstood a previous email, but I thought there was some sort of recall or some sort of addon you can have under factory warranty.<<<<<<
Unofficial Homepages: [Home] [E12] [E24] [E28] [E30] [E34] [E36] [Z3] [E39] [E46] [X5/E53] [ALL] [ Help ]