Home
E12
E24
E28
E30
E34
E36
Z3
E39
E46
X5/E53
ALL
Ron Stygar
Carl Buckland
Dale Beuning
Forums
Help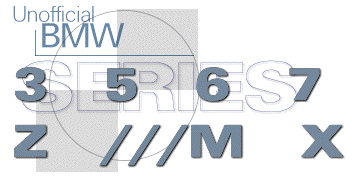 ---
---
From digest.v4.n601 Wed May 15 18:34:32 1996
From: Jimmy Shrake <jim_at_austin.apple.com>
Date: Wed, 15 May 96 16:59:31 -0500
Subject: <BMW> Microfilter

I changed mine and boy was it GROSS! Black with even some leaves and it was wet at the bottom, I assume from condensation. This is probably where that barn smell was coming from that I noted on startup occasionally. Air flow is greatly improved now. I believe it had 45k miles on it. I found the whole thing to be pretty easy. I never would have figured out where it is w/o the instructions though. If your miles are getting up there, and this has not been done, do it!
I got the instruction on how to do it from: http://cbsgi1.bu.edu/bmw/microfilter.html
Which were prepared by Jerry Skene. Thanks Jerry!
I have a couple things to add to them.
There have been two glove box styles on the E36 cars. On my car it was not necessary to remove the kick panel.
It is also not possible (or necessary) to remove the two air vents and screws behind them as it states the instructions.
I could not get my electrical distribution block out according the instructions. Instead I removed three 8mm bolts which lets you move the whole assembly out of the way. It was easy to do & put back.
Here is a BIG tip that I discovered previously. If you have ever removed your glovebox and had trouble getting those little plastic screw caps to go back on and look good, here is why. When you remove the glove box, you will have six screws that appear identical. If you look real close though you will see that two of them have a small lip on the head which is to retain the little plastic cap. Make sure to use these screws in the proper location and the caps work like a charm. This drove me NUTS before I finally noticed the difference.
Jimmy Shrake
Austin, TX USA
jim_at_austin.apple.com
'93 318is (Current)
'85 325e (KIA)
Unofficial Homepages: [Home] [E12] [E24] [E28] [E30] [E34] [E36] [Z3] [E39] [E46] [X5/E53] [ALL] [ Help ]