Home
E12
E24
E28
E30
E34
E36
Z3
E39
E46
X5/E53
ALL
Ron Stygar
Carl Buckland
Dale Beuning
Forums
Help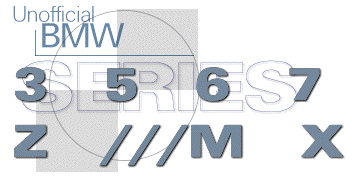 ---
---
From digest.v6.n286 Wed Feb 26 23:36:28 1997
From: Dale Beuning <dale_at_unofficialbmw.com>
Date: Wed, 26 Feb 1997 18:58:17 -0800 (PST)
Subject: Re: <E36> M3 Sport Seat -- What a pain!

I had the same problem, I just added factory silver/grey sheepskins and they help considerably.
Dale
> I'm an average-built 5'11" 210 lb, and I can't seem to get comfortable
> in my 97 M3 with standard sport seat! The main problem appears to be
> the side bolsters on the seat cushion; they're contoured in such a way
> that the "wings" dig into my thighs. I've tried various adjustments,
> but to no avail. I've sat in other M3's and they all had the same
> problem.
> Nobuya Higashiyama
> Microsoft Corp.
> nobuyah_at_microsoft.com
>
---

                       |            Dale Beuning           |
                       |       email: dale_at_unofficialbmw.com     |
                       | web: http://www.unofficialbmw.com |
                        -----------------------------------

Unofficial Homepages: [Home] [E12] [E24] [E28] [E30] [E34] [E36] [Z3] [E39] [E46] [X5/E53] [ALL] [ Help ]