Home
E12
E24
E28
E30
E34
E36
Z3
E39
E46
X5/E53
ALL
Ron Stygar
Carl Buckland
Dale Beuning
Forums
Help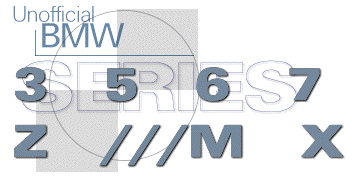 ---
---
From digest.v5.n542 Tue Nov 12 00:23:21 1996
From: "Carl Buckland" <buckland_at_xmission.com>
Date: Mon, 11 Nov 1996 17:27:07 +0000
Subject: Carbon Fiber Trim
Ted asked.... From: Ted Ching <tedching_at_ea.oac.uci.edu>
Date: Mon, 11 Nov 1996 01:52:18 -0800 (PST)
Subject: carbon fiber trim
Anyone have any info about adding carbon fiber trim to my car's interior? Where to buy, how it turned out?
Thanks
'96 318is
xxxxxxxxxxxxxxxxxxxxxxxxxxxxxxxxxxxxxxxxxxxxxxxxxxxxxxxxxxxxxxxxxxxxxx
this is GOOD stuff! I installed the whole package, and love it. Here is a repeat of a previous post:

Date sent:        Mon, 4 Nov 1996 17:28:56 +0000
Subject:          Carbon Fiber interior inserts
Copies to:        milos_at_ix.netcom.com
Priority:         normal

During a brake this weekend, I was able to apply the full set of Milos Klackos' carbon fiber dress up kit. As nice as the glove box insert looked, the whole set is spectacular. It only took about an hour to put on very carefully.
It looks clean, professional, and like it "belongs" on a race oriented M3. It would look nice on any E36, for that matter. My interior is gray and charcoal (standard with the Avus blue), and the color of the carbon pieces is perfect.
If you want to dress up the interior of your rather spartan E36, you may like this approach. You can find all the info, plus photos, on Milos' Web page:
Milos Klacko (milos_at_ix.netcom.com)
Check his BMW Web Page with details about Carbon Fiber trim at: http://www.wp.com/MilosBMW
BTW, it would seem kind of counter productive to "add weight" to a car that is trying to be as competitive as possible. The whole kit probably weighs 1/2 pound, if that. Also, I see no harm in making your car more attractive, even if the article being added isn't a "normal race piece."
regards,
Carl
Carl R. Buckland
1000 Boston Bldg
Nine Exchange Place
Salt Lake City, Utah 84111
801-531-6686
Fax 531-6690
E Mail buckland_at_xmission.com
---
---
From digest.v6.n607 Thu May 1 13:13:58 1997 From: SBOGARD_at_WASVMIC1.VNET.IBM.COM
Date: Wed, 30 Apr 97 23:39:51 EDT
Subject: <E36> More on CF from Milos & BMW
Around April 23 I posted a comparison of Milos CF with the BMW Lightwt. CF. It took me forever to find a LTW to look at to see what the BMW CF looks like. I thought I'd save you shoppers some time...
After flipping through old Roundels, I realize I didn't have to chase down one of 80 Lightweights in the country...the BMW CF is on the Feb. '95 Roundel cover: ///M More speed? More power? More luxury? More Money! If you think the cover is kinda brownish/red, it's because the real stuff is. It looks kinda copper when the sun hits it. This is because about 15% of the threads are red, 25% black, and 60% light/shiny gray. See the Apr. 23 post for my opinions on appropriate color schemes.
Now, you do have to chase down a LTW and/or be nice to a dealer to find out what parts are available from BMW & the costs. I did both:
Manual center console 51 16 2 261 318 $864

Glove box trim        51 16 2 261 310    $196
Door sill strips      51 47 2 268 574    $111
Ashtray               ?                  ?

Not nearly as many parts as Milo's stuff, but BMW quality (& price) all the way. For those with '97 brown interiors, probably a good choice. (for the '97 CCA rebate buyers out there) No inside door trim, though.
FYI, the LTW door sills are surprising on two counts 1) they're the only parts that are fake CF (like the Mercedes SLK, only not cheap looking like the Benz fake CF, the SLK's trim is a total joke) and 2) they aren't what you think e.g. they don't go on the doors themselves, they really go on the SILL (the "step" thing on your car car when you open the doors up, my M3's is gray with a big ///M3 logo).
Why do I care so much about carbon fiber? 1) I want Milos AND BMW to make lots of money selling CF trim. So far, Milos is doing better at CF sales than BMW! And, 2) If enough people order the BMW stuff from the LTW, maybe the Germans will get the hint that we want our cars to look more like Porsches than walnut trimmed Jags. I'd like my M3 race car to look like a machine to park at the Rathskeller for beer, not a British boat for tea drinking, crumpet gumming old men chasing 20 yr olds. And, that's what the M5 will become if some of us don't vote with our dollars to keep ///M machines young looking.
So, either buy Milos CF or buy BMW's LTW CF, and leave the walnut stuff for the squirrels or Jag buying cigar gummers.
Our only other hope is that Milos gets so rich he can buy BMW-NA.
p.s. anyone know how to add the info I've found out on the BMW LTW CF to www.unofficialbmw.com/e36/interior/e36_carbon_fiber_trim so it's with the other CF info?
Unofficial Homepages: [Home] [E12] [E24] [E28] [E30] [E34] [E36] [Z3] [E39] [E46] [X5/E53] [ALL] [ Help ]