Home
E12
E24
E28
E30
E34
E36
Z3
E39
E46
X5/E53
ALL
Ron Stygar
Carl Buckland
Dale Beuning
Forums
Help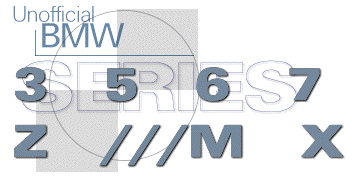 ---
---
From digest.v9.n554 Thu Nov 19 12:15:20 1998
From: John Firestone <john.firestone_at_nord-com.net>
Date: Thu, 19 Nov 1998 20:29:15 +0100 (MET)
Subject: Re: my cold car

MWilks_at_royallepage.com (Wilks Murray) writes: >
> John, thanx for responding to the digest regarding my question about
> warming up the "fridge" (my outside-stored E36).
> The Mercedes C-Class in Canada has auxiliary heating but the E36 does
> not. Mercedes 1, BMW (Canada?) one big fat zero.
>
> Now, if I could EASILY AND COST-EFFECTIVELY do a retro-fit to my car.
> Any experience with that?
>
Yes. My dealer and I retrofitted BMW's auxiliary heating/cooling system to my E36 318is. For those unfamiliar with it, the system uses a 5kW gasoline powered heater and a pump to circulate warm (70 deg C) water through the passenger compartment heat exchanger.
I let my dealer do the mechanical work because running the lines to the heat exchanger looked really tedious, and indeed it was. I did the electrical work which included adapting the kit to use the OBC rather than the supplied timer clock. I understand the latest kit is much easier to install. Next time, I would attempt all of it.
For those who would like to try to order it, park heating with remote control (good to 1 km away), is option 536 for the 5er and 7er. The cost in Germany, including 16% VAT is 2700 DM. As far as I know, the system is not yet a 3er option and must still be retrofitted.
The various retrofit kits cost the following:
3er without / with remote control 1764 / 2265 DM (inkl. 16% MwSt) 5er " / " " " 2436 / 3573 DM 7er with / without remote control 2436 / 3573 DM
You can also buy auxiliary heater kits directly from the two major German OEM's, Webasto and Eberspaecher. Both have U.S. subsidiaries but I believe they only sell heaters for trucks and buses.
I understand BMW NA does not offer park heating or auxiliary heaters because they deem them too dangerous for the litigious U.S. market. You might still try to special order one on a new car and see what happens.
-John '96 318is john.firestone_at_nord-com.net
Unofficial Homepages: [Home] [E12] [E24] [E28] [E30] [E34] [E36] [Z3] [E39] [E46] [X5/E53] [ALL] [ Help ]