Home
E12
E24
E28
E30
E34
E36
Z3
E39
E46
X5/E53
ALL
Ron Stygar
Carl Buckland
Dale Beuning
Forums
Help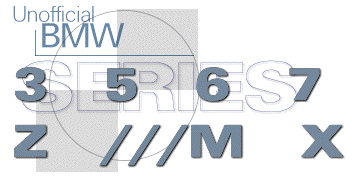 ---
Date: Wed, 10 Mar 1999 17:30:44 -0800
From: "Simon Atik" <atiks_at_tcwgroup.com>
Subject: [E36M3] P/N for M 3-spoke steering wheel

A while back I posted the part numbers for the new M 3-spoke steering = wheel for those looking at updating theirs to the new one. I've received = some requests recently so here they are again. Keep in mind that you must = replace the airbag and have it reset:
(1) Steering wheel P/N 32-34-2-228-230
(1) Airbag P/N 32-34-2-228-235
(1) Slip ring P/N 32-34-1-162-111
(1) Side Cover P/N 61-31-2-490-235 (L)
(1) Side Cover P/N 61-31-2-490-236 (R)
Total price from the dealer for parts is $1107.17 plus labor (sorry, I = didn't get the break down for each part). I'm sure you can find it for = less- heck perhaps you guys want to do a group purchase. Alan at Quality = Parts was supposed to get back to me a while back with availability but = never did. Let us know what you come up with if you pursue this or if = anyone has already done it. Happy ///motoring!
Simon, aka Mr. Vanos
www.mhaven.com
Unofficial Homepages: [Home] [E12] [E24] [E28] [E30] [E34] [E36] [Z3] [E39] [E46] [X5/E53] [ALL] [ Help ]