Home
E12
E24
E28
E30
E34
E36
Z3
E39
E46
X5/E53
ALL
Ron Stygar
Carl Buckland
Dale Beuning
Forums
Help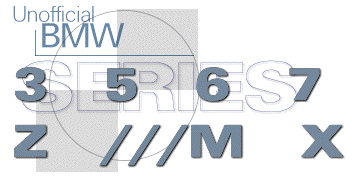 ---
---
From RonStygar_at_aol.com Fri Oct 23 01:10:29 1998
From: RonStygar_at_aol.com
Date: Fri, 23 Oct 1998 04:11:20 EDT
To: dale_at_unofficialbmw.com
Subject: Lets M-Z3 Euro alarm like LED my '97 318tis

On my '96 328is the Euro alarm LED part # 65 75 8 357 417 fits in one of the knockouts just forward of the shift lever console. On my '97 318tis there are no knockouts in this area. There are knockouts below the window switches that will work if you do not have the heated seats option. You would then use the above LED.
The M-Z3 Euro alarm like LED part # 65 75 2 491 479 is wider. Like the above LED there is no single frame, that I'm aware of, that accommodates this LED.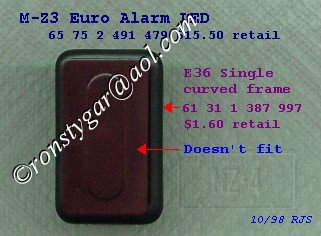 With some filing/sanding you can easily make it fit the standard E36 single, double or triple curved frames. Being a matte finish, if you use a fine enough sand paper and take the time, no one will know that you were there. Since the altered edges are now recessed and don't show, it really doesn't matter.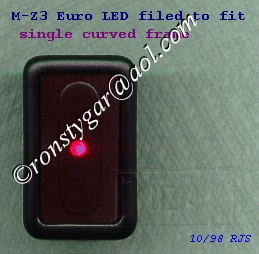 Like the other Euro LED I had to jump out the 5.1 K ohm resistor to accommodate the BMW alarm in my '97 318tis. Check out the following if you decide to do this to your ti, or whatever.
I added a single curved frame to my ti just forward of the passenger side window switch. This is where I relocated the stock LED when installing my VDO gauge panel, which means that there is a hole there. Doing it again, I might place it in the flat area just behind the hazard switch, where I relocated the cigar lighter to when adding the gauges. If you do this, you would use the flat frame 61 31 1 387 996. Back then, I wasn't aware of the Euro alarm LED's.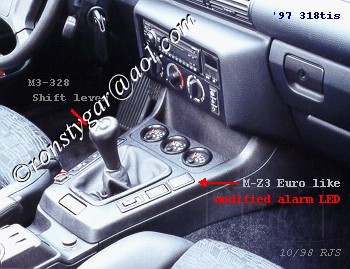 RonStygar_at_aol.com FLY BMW Marlborough, CT
http://www.unofficialbmw.com/ronstygar.html
Unofficial Homepages: [Home] [E12] [E24] [E28] [E30] [E34] [E36] [Z3] [E39] [E46] [X5/E53] [ALL] [ Help ]