Home
E12
E24
E28
E30
E34
E36
Z3
E39
E46
X5/E53
ALL
Ron Stygar
Carl Buckland
Dale Beuning
Forums
Help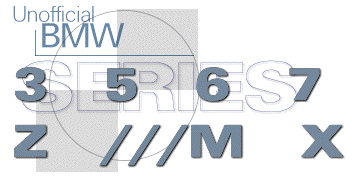 ---
---
From dale_at_unofficialbmw.com Mon Nov 5 09:55:10 2001
From: RonStygar_at_aol.com
Date: Tue, 16 Oct 2001 01:42:08 EDT
Subject: Lets light up the side gills on my '01 M coupe
To: dale_at_unofficialbmw.com
I get many requests to do things. If interested, I put it on the things to do list (mentally). Some of the most popular ones are comfort close of windows and sunroof (stink mode), one touch sunroof close, lighting up the door sills and lighting up the M-Z3 side gills.
This addresses lighting up the M-Z3 side gills. Although approaching a rice a roni type mod, it looks pretty good if done in a subtle way.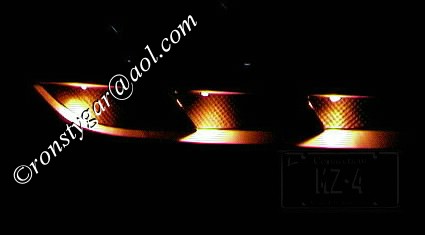 The gill assembly is held in place with five clips and a screw. Since the clips are $3.00 retail each, I designed a tool to easily remove them without damage.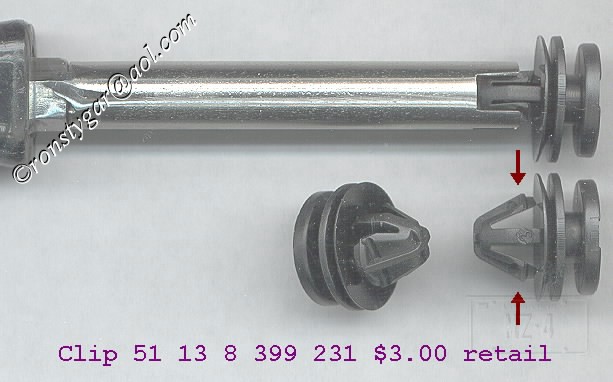 The chrome piece is removable by removing the wedges that hold it in place (once you remove the gill).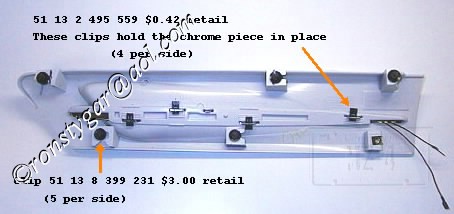 I drilled three .25 inch holes on the bottom side of the gill. Coming up with where to drill them was the hardest part. The side gills retail for $169.00 each unpainted, so you have to be careful drilling the holes.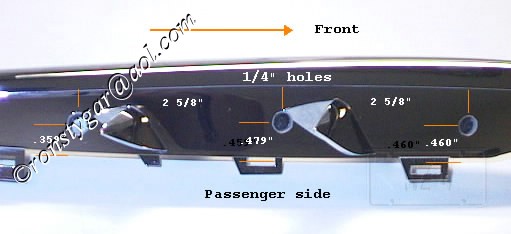 The holes accommodate the same clear lenses (Mouser 1-800-346-6873 part number 593-3000C $0.25 retail each) I used in my light up the interior handle mod.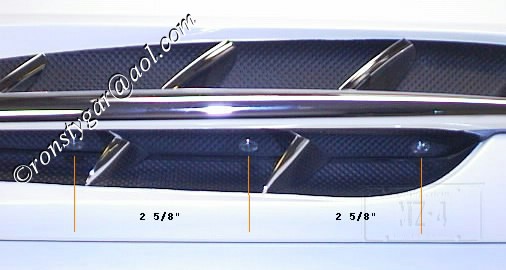 I chose Radio Shack yellow LED's part number 276-301 $1.79 retail each. Ended up running them at full brightness plus. I wired them to be lit with parking lights on and alternate off with the signal lights via a relay picked by the signal light line.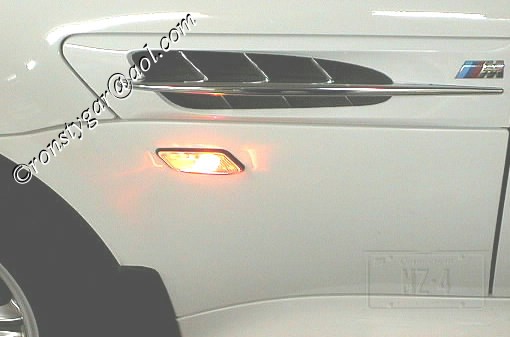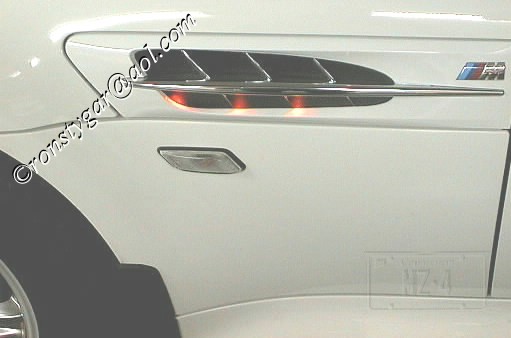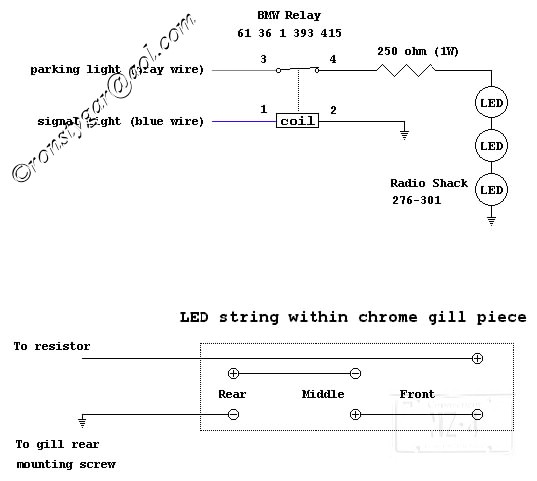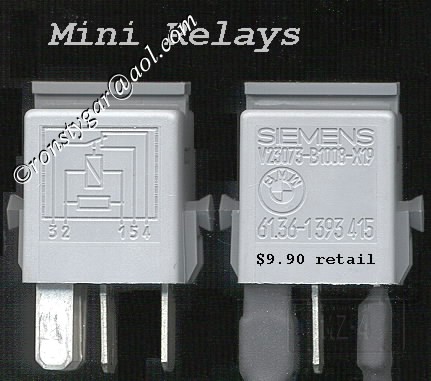 I tapped into the signal and parking light wires at the front signal/parking light area.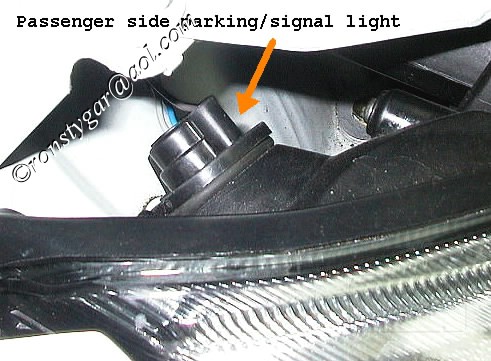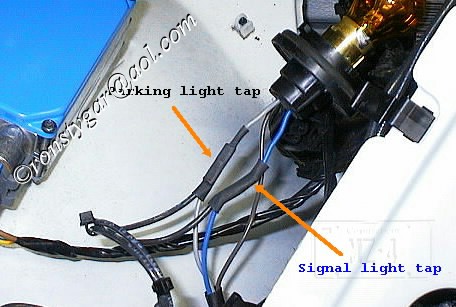 I added the resistor on each side to the wire going to the gill assembly.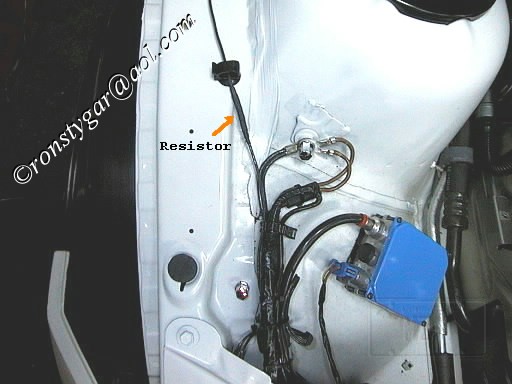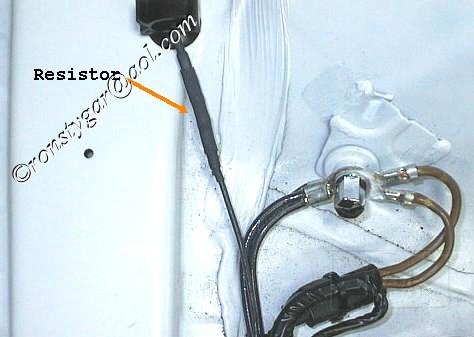 I grounded the LED string using the gill assembly mounting screw.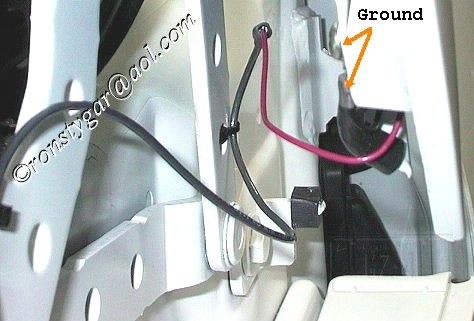 I'm amazed how nice this mod looks. Several people have asked me to do this for them. Too labor intensive. Too risky if I screw up. May make up a kit with the pieces parts, tool etc. Any questions, let me know.
Ron_at_unofficialbmw.com, FLI BMW, FLY BMW, Marlborough, CT
http://www.unofficialbmw.com/ronstygar.html
Unofficial RS/SS bender/shortener/installer +

Unofficial Homepages: [Home] [E12] [E24] [E28] [E30] [E34] [E36] [Z3] [E39] [E46] [X5/E53] [ALL] [ Help ]