Home
E12
E24
E28
E30
E34
E36
Z3
E39
E46
X5/E53
ALL
Ron Stygar
Carl Buckland
Dale Beuning
Forums
Help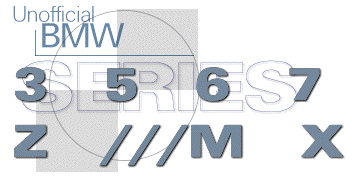 ---
---
Date: 18 May 1997 13:06:42 -0400
From: Cyber Matt <cyber_at_highway1.com>
Subject: Re: <E36> '97 style white (clear) side markers
RonStygar_at_aol.com wrote:
> The part #'s for the 1997 type white (clear) side markers are 63 13
> 2 492 179
> & 180. These #'s are not in the BMWNA retail price book. If
> interested call
> Bekkers 1-800-624-5410. Ask for Rick and run the numbers by him.
I just received my new light covers! Clear up front, on the sides, and in the back. I ordered them from Bekkers my salesman was Rick, he was very friendly and helpful. The total damage was $264.36 including shipping. I have an Aqua Metallic California edition only 100 made, and the clear lenses look great! I've also seen a purple M3 with the treatment.
Installation is a snap:
Fronts have a clip, once you release the pressure they POP out. The sides have one screw, and the backs have 4 nuts each. Total replacement time 10 minutes or less!
Part numbers:
Front 56170EZ and 56171EZ
Side Flash 56262EZ and 56263EZ
Back 56224EZ and 56225EZ
All except the back came with amber bulbs.
---
Date: 18 May 1997 15:41:18 -0400
From: Shawn Collins <shawn_at_geejeffery.com> Subject: Re: <E36> '97 style white (clear) side markers
On 5/18/97 1:09 PM, Cyber Matt wrote...
>The total damage was $264.36 including shipping.
I've just been considering this myself. BMW Canada just sent me (only me, nobody else ;-) a pamphlet on summer "sale" items this week, and they list the front lenses/bulbs for C$59.90/each, and the side markers for C$19.90/each (pre-'97 style), which would total C$159.60. The prices for the rear weren't listed, but I'm sure they're the most expensive. Given that C$159.60 equates to roughly US$118.00 (for just the front and sides), how does this compare to what you paid?
Regards,
Shawn
---
Unofficial Homepages: [Home] [E12] [E24] [E28] [E30] [E34] [E36] [Z3] [E39] [E46] [X5/E53] [ALL] [ Help ]