Home
E12
E24
E28
E30
E34
E36
Z3
E39
E46
X5/E53
ALL
Ron Stygar
Carl Buckland
Dale Beuning
Forums
Help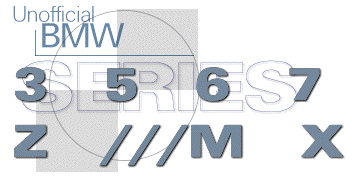 ---
---
From RonStygar_at_aol.com Fri Oct 10 18:10:05 1997
From: RonStygar_at_aol.com
Date: Fri, 10 Oct 1997 21:08:17 -0400 (EDT)
To: BMW-digest_at_mailgate.wizvax.net, 318ti-compact-list_at_lists.geejeffery.com
cc: dale_at_unofficialbmw.com
Subject: <E36/5> Lets give my '97 318ti Sport some lip (without removing the air dam)

Based on reading posts from the main digest, I wondered what a lip spoiler was. No Snap-on tools are required for this job. If so, I would have used them. Many years ago an old man told me that you have to leave enough money for tools, when you are planning a job. His wisdom is still remembered. This is how I did it. Feel free to do it your way. Here we go:
---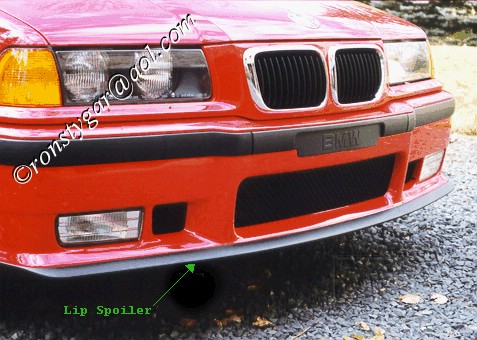 ---
Parts:

         1 each: Lip Spoiler 51 11 2 251 767 $75.00 retail
         4 each: Rivets 51 11 1 908 077 $0.37 x 4 = $1.48 retail
         7 each: Special Nuts 51 11 2 252 200 $0.46 x 7 = $3.22 retail
         7 each: Bolts 51 11 2 257 140 $0.33 x 7 = $2.25 retail

Tools: 1/4 inch drill bit

          3/8 inch drill bit 
          File card
          Assorted round files
          Razor knife

I smoothed off the roughness of the spoiler top edge (where it meets the lower air dam) with 220 wet sand paper. Carefull, do not scratch the surface that shows. Jack up the front of the car and support with jack stands. I have a set of four (my design) that accommodate the BMW hockey puck jack pads. Place the lip spoiler in place using duck tape. Make sure its aligned correctly, adjusting the duck tape accordingly, and drill the four (two each side) 1/4 inch side mounting point rivet holes, using the lip as a guide. Install the four rivets. Now that it is sort of in place, readjust the duct tape if necessary, hold it in position and drill the seven front 3/8 inch (special nut) mounting holes again using the lip as a guide. Remove the rivet held / taped on lip. Hand file or razor knife these holes to a ~3/8 inch square shape to accommodate the square shape of the special nut. Insert the special nut so that the inner oval shape is in line with the width of the car. Mark the inner oval shape on the air dam. File to the marks. Use the file card to keep the files clean (they load up quickly). Make sure the holes are clear of all flashing residue. I broke a special nut not paying attention to this (you may want to purchase a couple of extra nuts). Push in the nuts and (carefully) turn 90 degrees. Treat the lip with Black Again. Install the spoiler, loosely at first, making sure that everything lines up correctly and then tighten.

Looks good. Thanks go to Newtman (Tom) and Stephen for their insight on installing the above.
Ron_at_unofficialbmw.com, FLI BMW, FLY BMW, Marlborough, CT
http://www.unofficialbmw.com/ronstygar.html
Unofficial RS/SS bender/shortener/installer +

Unofficial Homepages: [Home] [E12] [E24] [E28] [E30] [E34] [E36] [Z3] [E39] [E46] [X5/E53] [ALL] [ Help ]