Home
E12
E24
E28
E30
E34
E36
Z3
E39
E46
X5/E53
ALL
Ron Stygar
Carl Buckland
Dale Beuning
Forums
Help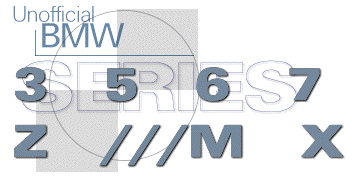 ---
---
From RonStygar_at_aol.com Sat Mar 7 19:51:50 1998
From: Ron Stygar <RonStygar_at_aol.com>
Date: Sat, 7 Mar 1998 22:49:44 EST
To: dale_at_unofficialbmw.com
Subject: Lets rear spoiler my '97 318tis

---
Scott,
I had mine painted at Automobile Associates of Canton, CT 860-693-0278 (ask for Jim Newton) for $150.00 and installed it myself. Their quality is outstanding. Ask Jim for an install price. Stop over some weekend, and I will show you whats involved (relatively easy), but I will not install it for you.
The hardest part (for me) was reinstalling the interior hatch trim. Some of my mounting clips (total of ten) part # 51 49 8 183 309 which retail for $0.20 were missing (If you attempt this you will see why). The two bottom edge expanding rivets are a one shot item, so you will have to purchase two of them.
Schwarz ones part # 51 11 1 944 537 retail for $0.37.
Sandgrau ones part # 51 11 8 196 346 retail for $0.16.

You may also want to puchase two screw caps in case you ruin them when removing the interior hatch trim.
Schwarz ones part # 51 16 1949 793 retail for $0.38.
Sandgrau ones part # 51 16 8 191 949 retail for $0.25.

In addition, I also screwed the two sides from below, using brass screws, similar to the way the 328 rear wing is mounted. p.s. New Country Motors has access to an excellent paint shop.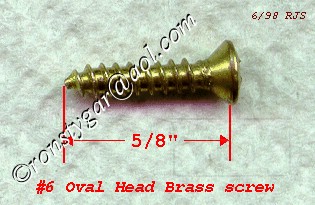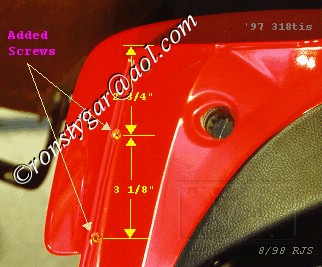 Ron_at_unofficialbmw.com, FLI BMW, FLY BMW, Marlborough, CT
http://www.unofficialbmw.com/ronstygar.html
Unofficial RS/SS bender/shortener/installer +

Unofficial Homepages: [Home] [E12] [E24] [E28] [E30] [E34] [E36] [Z3] [E39] [E46] [X5/E53] [ALL] [ Help ]