Home
E12
E24
E28
E30
E34
E36
Z3
E39
E46
X5/E53
ALL
Ron Stygar
Carl Buckland
Dale Beuning
Forums
Help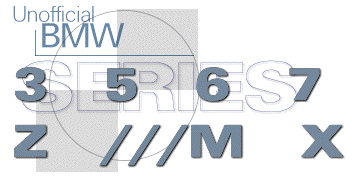 ---
---
---
From digest.v5.n9 Sun Jul 21 11:03:26 1996
From: Robert Charles <bikerx_at_ix.netcom.com>
Date: Sat, 20 Jul 1996 22:13:22 +0000
Subject: Steering Wheel restoration

For Leather Steering Wheel "restoration", I saw the following ad in the June, 1996 "Roundel" (Page 101, lower right corner)
"All leather steering wheel restoration kit for most BMW's which

     fully covers the spokes and is factory in appearance.  Pre-punched 
     lacing holes, thread and needle are provided for easier 
     installation. $39-49.95)"

The Company is:
AGLA, Inc.
2700 W. Atlantic Ave.
Pompano Beach, FL 33069
Phone: 1-800-780-4500
Local Phone: 305-472-9836
Fax: 305-472-9836
They also advertise replacement shift boots, shift knobs, leather emergency brake boots and handles.
I have no affiliation with AGLA, Inc. I have never ordered any of the products described here. I have never even talked with a representative of AGLA, Inc. I offer no personal reference for AGLA, Inc. All I know is: they have advertised in "Roundel" for about a year or more, and I haven't heard anything BAD about them. :-)
I hope this helps!
Regards,
Robert
'91 <E30> 318is
Unofficial Homepages: [Home] [E12] [E24] [E28] [E30] [E34] [E36] [Z3] [E39] [E46] [X5/E53] [ALL] [ Help ]