Home
E12
E24
E28
E30
E34
E36
Z3
E39
E46
X5/E53
ALL
Ron Stygar
Carl Buckland
Dale Beuning
Forums
Help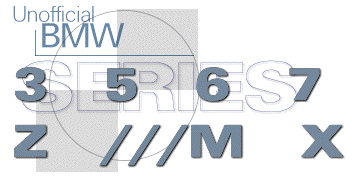 ---
---
From digest.v7.n558 Sat Nov 8 19:16:19 1997
From: Jim Bassett <jbassett_at_hooked.net>
Date: Sat, 08 Nov 1997 09:37:00 -0800
Subject: <E36> Sunroof cleaning tips?

> for my '95 325is.. I often tilt the sunroof for ventalation..
>after doing that for a awhile.. I notice that the back side of the sunroof
>are getting dirty.. does anyone have any cleaning tips for cleaning the
>headliners? thanks..
I did this a few months back on my '96 328is. I just used a foamy upholstery cleaner and a sponge. Worked surprisingly well, considering the cleaner is about 6 years old :-)
Just use a small amount on the sponge, and clean a small area at a time. Be gentle, let the cleaner lift up the dirt; I was afraid if I rubbed too hard, I would rub the nap off of the felt and leave a bald spot.
YMMV, I'm not a professional (or amateur) detailer, yaddayaddayadda.
Cheers,
---
Jim Bassett
For Money: jbassett_at_telco.com
For Fun: jbassett_at_hooked.net
Home Page: http://www.hooked.net/~jbassett

Unofficial Homepages: [Home] [E12] [E24] [E28] [E30] [E34] [E36] [Z3] [E39] [E46] [X5/E53] [ALL] [ Help ]