Home
E12
E24
E28
E30
E34
E36
Z3
E39
E46
X5/E53
ALL
Ron Stygar
Carl Buckland
Dale Beuning
Forums
Help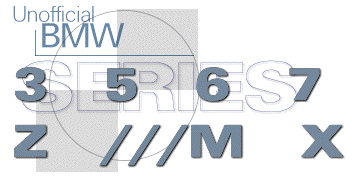 ---
---
From list-errors.700002333.0.700754162_at_boing.topica.com Thu Jan 6 11:44:29 2000
for <dale_at_unofficialbmw.com>; Thu, 6 Jan 2000 11:44:27 -0800
To: bsmith_at_microsource-inc.com
Cc: e36m3_at_topica.com
From: dale_at_unofficialbmw.com
Subject: Re: [E36M3] e36M3 Missed shift over rev- Big Brother (BMW) is watching you
Date: Thu, 06 Jan 2000 11:44:19 -0800

Only in the 96-99 OBDII cars with a Siemens DME. The earlier '95 has the Bosch DME and doesn't record the over-rev.
Dale
> Josh called me to let me know that the DME had recorded an over-rev at 7250
> rpm. I missed a shift at Laguna Seca and thankfully got the clutch back in
> before it did any damage. What I didn't know was that BMW gets these
> recorded in the DME. Be careful out there!
--
---

                       |            Dale Beuning           |
                       |       email: dale_at_unofficialbmw.com     |

                       | web: http://www.unofficialbmw.com |
                        -----------------------------------

---
Get your favorite topic delivered daily. http://www.topica.com/t/11

Unofficial Homepages: [Home] [E12] [E24] [E28] [E30] [E34] [E36] [Z3] [E39] [E46] [X5/E53] [ALL] [ Help ]