Home
E12
E24
E28
E30
E34
E36
Z3
E39
E46
X5/E53
ALL
Ron Stygar
Carl Buckland
Dale Beuning
Forums
Help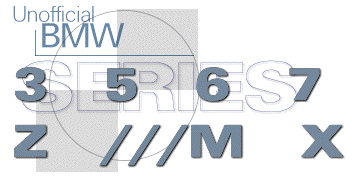 ---
---
From digest.v9.n740 Wed Dec 23 05:34:00 1998
From: r browne <r_browne_at_yahoo.com>
Date: Wed, 23 Dec 1998 05:28:58 -0800 (PST)
Subject: <E36>List of 318i M42 Coolant Hoses

Greetings:
Early E36 318 owners may want to consider changing their coolant system hoses (if you have not already done so) soon. I'm no expert on this particular subject, but I figure 6.5 to 7 years on a set of hoses is starting to push it. Mine are all original, and still look good, and have no signs of cracking or softness when squeezed. Keep in mind that hoses usually begin to deteriorate from the inside out. I have checked out the parts, and below are all the coolant hoses for the E36 1992 M42 engine. (may fit others, but I dont know) I have not acquired the actual hoses yet, and have not even carefully looked at the location of all the hoses to see how difficult this job will be.
Lower hose to T-Stat: $17.73

Upper hose:             $18.97
Lower hose:             $22.65 
To heating element:     $5.53 

Betwn heating element: $4.62
>From heating element: $6.80


Heater inlet:           $20.45
Heater outlet:          $11.50

Prices shown above are current BMW Retail prices. Most dealers don't appear to have all the above in stock, so a few days to order may be necessary. Check with your favorite parts supplier for potential discounts off of the above prices.
Ron Browne
1992 318is
Bowie, MD
PS..Dale...this may be good info for the Unofficial E36 Homepage Archives.
---
DO YOU YAHOO!?
Get your free _at_yahoo.com address_at_http://mail.yahoo.com

Hostname = mx1
Hostname = Mx1

Unofficial Homepages: [Home] [E12] [E24] [E28] [E30] [E34] [E36] [Z3] [E39] [E46] [X5/E53] [ALL] [ Help ]