Home
E12
E24
E28
E30
E34
E36
Z3
E39
E46
X5/E53
ALL
Ron Stygar
Carl Buckland
Dale Beuning
Forums
Help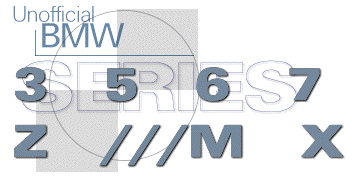 ---
---
From list-errors.700002333.0.700754162_at_boing.topica.com Thu Dec 30 14:36:57 1999
for <dale_at_unofficialbmw.com>; Thu, 30 Dec 1999 14:36:55 -0800
To: pbosco_at_earthlink.net, e36m3_at_topica.com
From: mdriver13_at_aol.com
Subject: Re: [E36M3] Strange noise at startup in cold weather...
Date: Thu, 30 Dec 1999 07:16:17 -0800

In a message dated 12/29/99 9:06:28 PM Eastern Standard Time, pbosco_at_earthlink.net writes:
<< makes a loud shooshing sound for a brief second - and then goes away...it runs great otherwise and never makes the sound when it's warmer outside >>
Bingo, you just describled the sound and nature of the e36M3 defective starter. Mine has made the same sound for two winters and has started sounding off again as the temp has lowered to below 32 degrees. My dealer says he will replace it closer to the end of the warranty, hoping BMW designs a better fitting starter than the current replacement. Good luck.
Bob Gill
97 ///M3 coupe
Philly Region SCCA
1st AS - '97
2nd AS - '98
2nd AS - '99
---
Get your favorite topic delivered daily. http://www.topica.com/t/11

Unofficial Homepages: [Home] [E12] [E24] [E28] [E30] [E34] [E36] [Z3] [E39] [E46] [X5/E53] [ALL] [ Help ]