Home
E12
E24
E28
E30
E34
E36
Z3
E39
E46
X5/E53
ALL
Ron Stygar
Carl Buckland
Dale Beuning
Forums
Help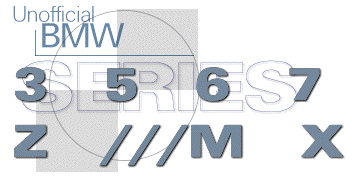 ---
---
From digest.v4.n830 Thu Jul 11 14:38:44 1996
From: Land Shark <lndshrk_at_xmission.com>
Date: Thu, 11 Jul 1996 14:00:50 -0600
Subject: E36 M3 Idle Surge

Yes, it's a known problem...
Don't let them fool you ..
It's NOT a big deal however ..
The reason it happens is that there is code inside the DME that does NOT engage the idle circuit until the VEHICLE speed is below about 1.4 MPH ..
This causes the speed to surge as the EGO sensor controls the fuel, but the ICV does not regulate the AIR .. hence the surging rpms ..
The fix is to reprogram the EPROM, but BMW has not chosen to do that, instead they have a kludge fix that interrupts the A signal from the Instrument Cluster to the DME when the clutch is pressed in ...
Jim
PS: Yes, if someone has it occur FREQUENTLY I could ship you TWO eproms to try,
of which ONE would fix the problem for you ... it doesnt happen often enough for me at 4800' alt. to diagnose!
Unofficial Homepages: [Home] [E12] [E24] [E28] [E30] [E34] [E36] [Z3] [E39] [E46] [X5/E53] [ALL] [ Help ]