Home
E12
E24
E28
E30
E34
E36
Z3
E39
E46
X5/E53
ALL
Ron Stygar
Carl Buckland
Dale Beuning
Forums
Help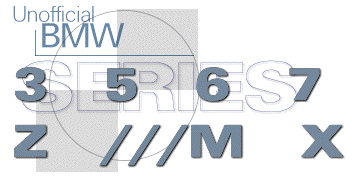 ---
---
From digest.v6.n507 Wed Apr 9 18:42:47 1997
From: "Allen B. Oser" <osera_at_rad.uab.edu>
Date: Wed, 9 Apr 1997 15:23:06 -0500
Subject: re: <E36><M3><97> Consistent cold start

Kirk S wrote_
"My 97 M3 consistently exhibits a slightly rough, hunting idle for

     about 20 seconds after the morning cold start up (60F ambient temp)
     and then, like clockwork, settles into a smooth normal idle."

FWIW, I asked my local dealer service about this after noticing the same thing. I was told that this early rough idle corresponds to the time it takes for the O2 sensor to warm, and it was more prominent on the e36 M3. It would probably happen more when it's colder. He suggested letting the car warm for about a minute. It's not something to worry about or fix.
I have decided not to worry about it for know, unless I hear otherwise.
Allen O.
97 M3
Unofficial Homepages: [Home] [E12] [E24] [E28] [E30] [E34] [E36] [Z3] [E39] [E46] [X5/E53] [ALL] [ Help ]