Google Search

Search (Google!!)
Search Amazon.com
Home
E12
E24
E28
E30
E34
E36
Z3
E39
E46
X5/E53
ALL
Ron Stygar
Carl Buckland
Dale Beuning
Forums
Help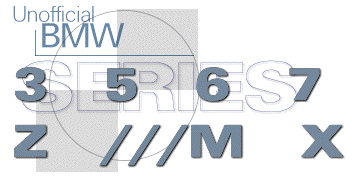 ---
---
From nobody_at_eskimo.com Wed Jan 13 10:35:05 1999
for <dale_at_unofficialbmw.com>; Wed, 13 Jan 1999 10:35:00 -0800
by www.unofficialbmw.com (8.9.1a/8.9.1) id KAA27394;
Wed, 13 Jan 1999 10:37:53 -0800
Date: Wed, 13 Jan 1999 10:37:53 -0800
From: dale_beuning_at_eskimo.com (BMW Pages Feedback)
To: dale_at_unofficialbmw.com
Subject: BMW comment:

many M3 3.2's have serious problems...
X-Remote-Host: host5-99-43-129.btinternet.com X-URL: http://www.unofficialbmw.com/bmw_feedback.html
email --- cars_at_btinternet.com
model --- E36
area --- Engine
comments --- Quick get your vanos units replaced under warranty!!!
I got an M3 Evolution new at the beginning of 1996 and part exchanged a 1994 M3. for two years i complained about the car being slower than the old one, stalling often, having a flat spot at low rpm and being so bad to park ( because of the poor idle) that my girlfriend refused to drive it. Only when i threatened to sue BMW GB and booked the car onto a rolling road to show it was down on BHP did they admit that the vanos was faulty. This was November 1998. the nice young engineer said that they had replaced "loads" of vanos units for 3.2's and that the previous model was more reliable. I have since found 6 owners of faulty M3 3.2's near me in London. It also took two years to work out that the passenger dash board was the wrong size to fit the wood veneer but refused to pay for the fitting of the correct dashboard facing. Unbelievable for a £42,000 car. My new mercedes c43 arrives next week.
Unofficial Homepages: [Home] [E12] [E24] [E28] [E30] [E34] [E36] [Z3] [E39] [E46] [X5/E53] [ALL] [ Help ]